Resting at home for the last few weeks meant I had time to catch some of the current dramas. Unfortunately, I have been trying to get this post off for the last 2 weeks to no avail.
I have zero inspirations. Zilch. Nothing.
The only reason I'm writing about them is because the first drama of these reunited stars held good memories, in one way or another.
Temptation
One of the most hyped was the reunion of Kwon Sang Woo and Choi Ji Woo after 11 years in 'Stairways to Heaven'.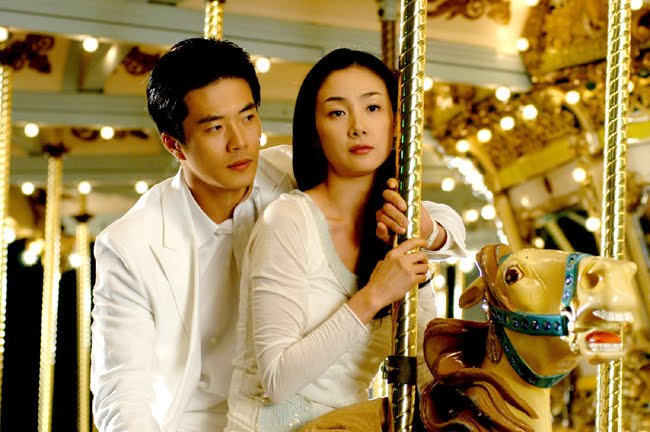 Starring in the drama, 'Temptation' ala 'Indecent Proposal' Korean drama style.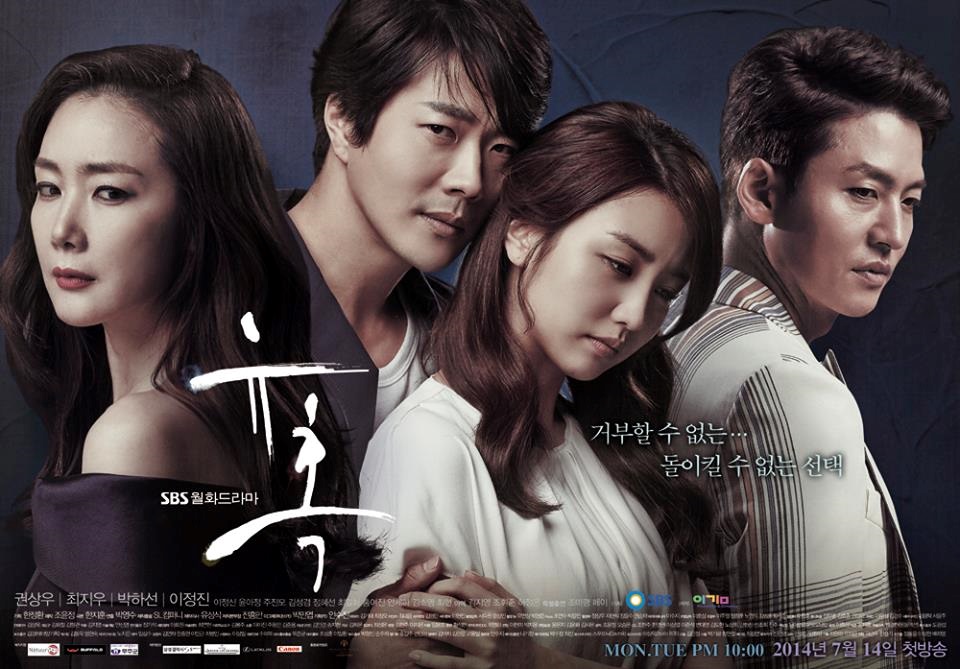 Cast
Kwon Sang Woo – Cha Suk Hoon
Choi Ji Woo– Yoo Se Young
Lee Jung Jin – Kang Min Woo
Park Ha Sun– Na Hong Joo
Lee Jung Shin- Na Hong Gyu
Cha Suk Hoon (Kwon Sang Woo), is heavily in debt due to business failure. In despair, his wife Hong Joo (Park Ha Sun) attempts suicide and is saved by Se Young (Choi Ji Woo). Se Young also offered Suk Hoon KRW one billion (at least I think it's one billion, I lost count of the number of zeros) in return for 3 days of his company. In case you have any naught thoughts, banish them now because this is Korean drama and we are talking about Choi Ji Woo and Kwon Sang Woo.
Suk Hoon and Hong Joo divorced over his 'alledged' affair. And eventually Suk Hoon and Se Young fell in love… of course.
At the same time, Kang Min Woo (Lee Jung Jin), who is Se Young's business rival has fallen in love with Hong Joo. Never mind that he is also married and a father of children.
I rather like Choi Ji Woo in the drama, especially in the beginning…the icy cold savvy no nonsense businesswoman. But the drama totally killed it for me when I saw this at the end of Episode 2, with the song 甜甜密密 in the background. Because you cannot sell yourself for 3 days to a almost complete stranger and then go cycling with her, with a wife hurting at home..
'Stairways to Heaven' was not one of my favorite drama, and I remembered the drama mainly because of the beautiful song,'Bogoshipta' (Missing You) by Kim Bum Soo and of course the carousel in Lotte World. But I must say the two of them had very good chemistry in this drama.
Side note: Park Shin Hye looked the same now as she did 11 years ago. \
11 years later, older and wiser, the 2 have brought their own acting experiences into the drama. The business plot isn't too bad but when you feel that all the misery that the characters are feeling were brought on upon themselves needlessly…
Reason for watching?
Choi Ji Woo's beautiful clothes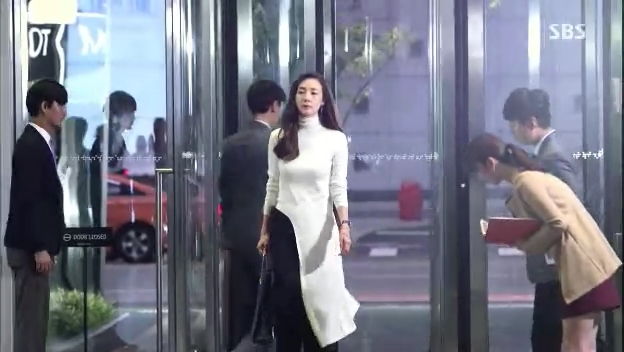 You can catch the drama on ONE every Monday and Tuesday, 8.55pm now on the following channels
StarHub TV channels 820, 823 and 124 and SingTel mio TV channels 513, 604 and 514.
'Fated to Love You'
The reunion of Jang Na Ra and Jang Hyuk, who first acted together in 'The Successful Story of a Bright Girl' is even longer- 12 years! I loved this drama. One of the very first few ones that I watched and started on my love affair with Korean dramas.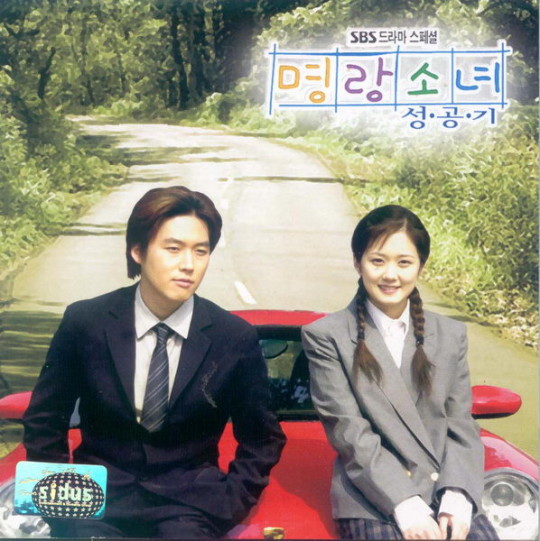 Currently in the remake of the Taiwanese drama, 'Fated to Love You',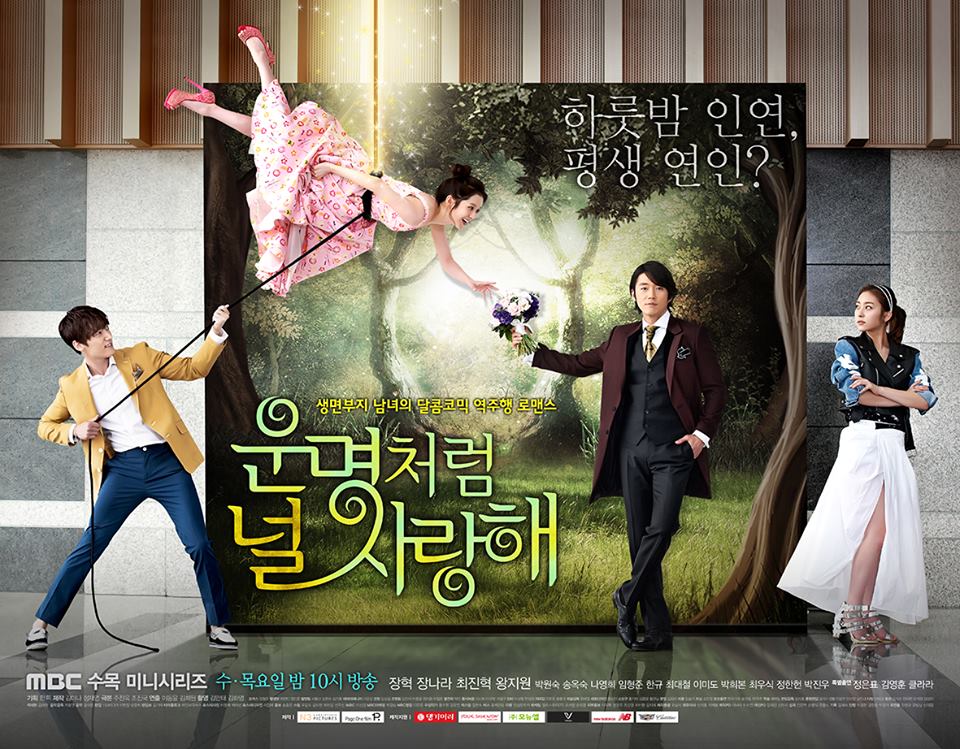 Cast
Jang Hyuk – Lee Gun
Jang Na Ra– Kim Mi Young
Choi Jin Hyuk – Daniel Pitt
Wang Ji Won– Kang Se Ra
Lee Gun (Jang Hyuk) is the sole male descendant of prominent and wealthy family. He has been dating Kang Se Ra (Wang Ji Won) for 6 years and planned to propose to her whilst on holiday in Macau. Kim Mi Young (Jang Na Ra) is a timid but kind hearted country girl. Nicknamed 'post-it-girl' by her colleagues and friends, she is constantly made used of by everyone.
An accidental one-night stand between Kim Mi Young and Lee Gun resulted in a shot-gun marriage.
Daniel Pitt (Choi Jin Hyuk) is an American Korean designer who is inI search of his long lost biological sister (also called Mi Young). He fell in love with the shy Mi Young and gave her much support during her difficult times.
I loved the original Taiwanese series and it's kind of difficult not to do a comparison. Especially when they have to throw in the usual K Drama illness. Ohh… and Lee Gun's loud laughter and the floppy hair didn't help either.
But Jang Hyuk is a great actor and I think he did the best that he could with the lack lusture script. Straits Times did a review in the Life section today and the reviewer wasn't impressed either.
Side note: Did you know I filmed a movie here in Singapore with Jang Hyuk and Fann Wong? Wahaha! Read my account here.
Reason for watching?
This man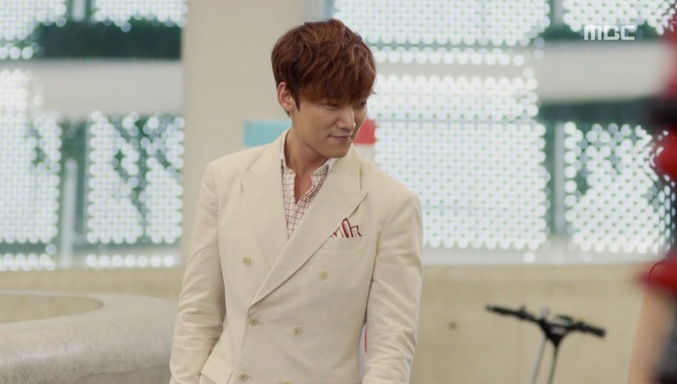 'The Discovery of Love'
Jung Yu Mi's first drama was with Que Sera Sera with Eric in 2007, filmed right here in Singapore. Ok, not all the 17 episodes but about 2-3 episodes. Some of my friends were even the extras in the show!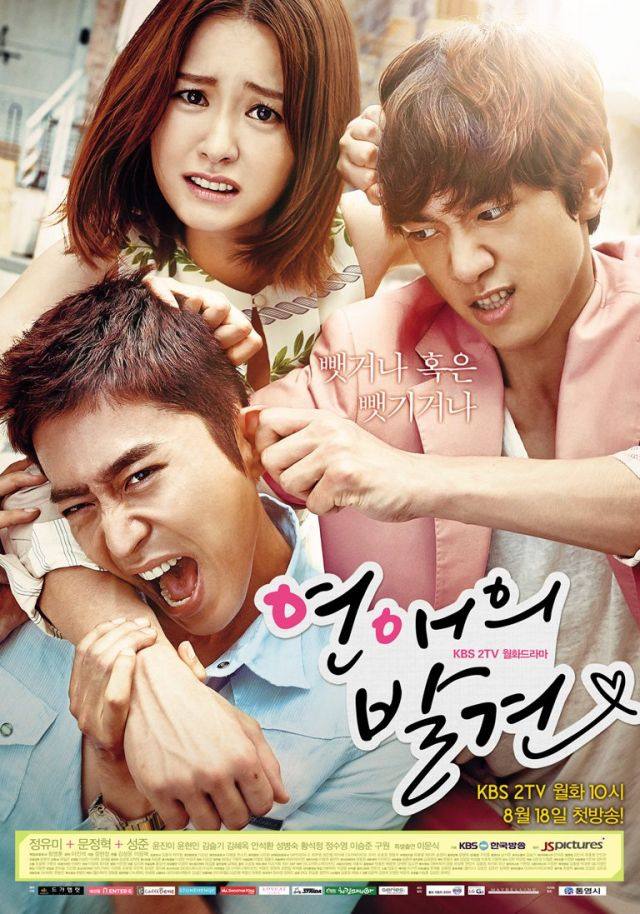 Jung Yu Mi – Han Yeo Reum
Eric Mun – Kang Tae Ha
Sung Joon – Nam Ha Jin
Yoon Jin Yi – Ahn Ah Rim
Han Yeo Reum (Jung Yu Mi) and Kang Tae Ha (Eric Mun) dated for many years before breaking up whilst on holiday at a railway station.
Fast forward to present times and Yeo Reum, a furniture designer, is now dating Nam Ha Jin (Sung Joon), a plastic surgeon with a sweet personality. His mother, though is not too keen on her and she constantly strives to win her over.
Yeo Reum and Tae Ha (now the CEO of an interior design company) meets again for work. Will they rekindle their love?
I can't really comment on this yet as I've only caught the first 2 episodes. Seems ok so far. Eric can be funny. Didn't think their chemistry was that great in 'Que Sera Sera' but it could be ok this time.
Side note: I did a quick post on the filming crew here. Many of my friends were involved as extras. I wasn't. But if it had been Jung Jin….
And here's a scene that was filmed in Singapore. Recognized any of the places?