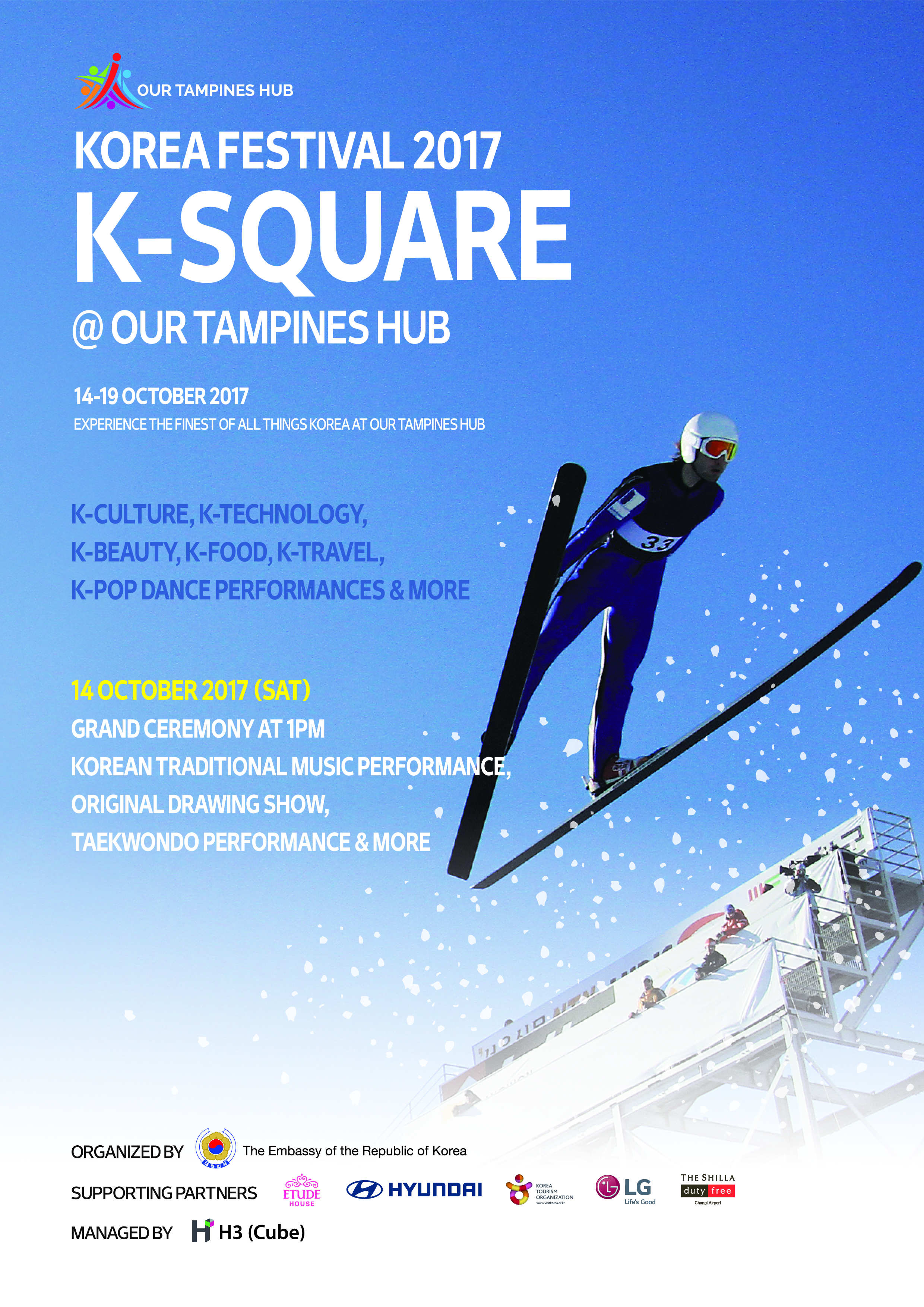 Korea Festival 2017 is back. This year, it will be held at the newly opened Our Tampinese Hub. Held from 14 October (Saturday) to 19 October (Thursday), the festival promises to be even bigger this year. There will be 6 sections at the festival- K-Culture, K-Food, K-Technology, K-Beauty, K-Travel and the PyeongChang Winter Olympic House.
Highlights include:
– Samul Nori performance, trendy K Pop acts by winners from the KBS K-Pop World Festival 2017
– kite making and traditional tea experience
– information and travel tips to Korea
– check out the modern household appliances from LG
– beauty products from Etude House and Shilla Duty Free booth where you might even win tickets to the Shilla Duty Free concert featuring REd Velvet and SHINee
– food sampling, with an exciting new section on Halal K food.
Korea will be hosting the 2018 Winter Olympics at PyeongChang. Find out more about this place at the fair. You can also try your hand at the mini ice hockey station at the PyeongChang Winter Olympic House.
There will be an official opening ceremony on the 14 October at 1pm by His Excellency Lee Sangdeok, Ambassador of the Republic of Korea to the Republic of Singapore. Guest-of-Honour Masagos Zulkifli, Minister for the Environment and Water Resources.
Special activities happening only on that day.
– Global Taste of Korea Hansik Contest
– performance on the Gayageum, a traditional Korean string instrument by musician Lee Seul
– Singaporean singer Akif Halqi, winner of the "Best Vocal" at the Grand Finals of KBS K-Pop World Festival 2017
– The Original Drawing Show
– Taekwondo act
For more information, check out Korea Embassy of Singapore's FB