We've passed the half way mark for Scarlet Hear Ryeo and after a slightly shaky start, the drama finally gets the flow right and is getting more exciting with each episode. Episode 11 was the turning point for all the main characters.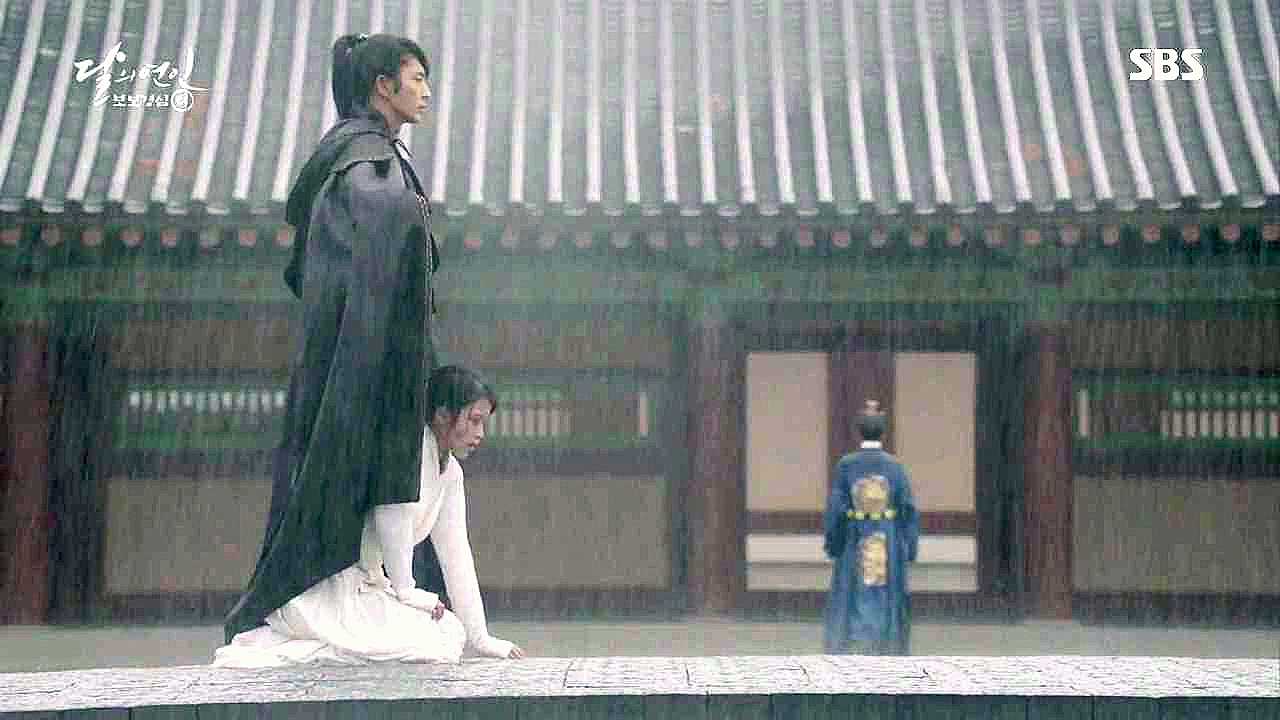 SBS did some editing for the Korean version due to feedback from the Korean viwers. Some of these cut scenes were pivotal to the flow of the story. So for the benefit of those who were not aware, here they are.
Ep 6
Scene between Hae Soo and Baek Ah after the death of Lady Hae. It showed the beginning of a friendship between both of them. Baek Ah was in love with Lady Hae but due to his lower status and the fact that she loved the 8th Prince, he could not fight for her hand.
Scene between the princes. Wang Yo was humiliating Baek Ah and Wang So rebutted him and defended Baek Ah. It was the start of the camaraderie and brotherhood between Wang So and Baek Ah.
Scene where Wang So confronted Ji Moo to demand he think of a way out for Haesoo after she was forced into marrying the King. It showed his concern for her despite his nonchalance.
Scene between Empress Yoo and the King who demanded to know the reason for the urgency in marrying Haesoo.
Ep 7
Scene between Wang Wook and his sister when she urged him to remarry. She knew it was vital for their security. She was willing to sacrifice herself as long as her brother becomes king. Although not as clear then, by Ep 11, it was revealed that Lady Oh had lost the King's child due to Queen Yoo's scheming and she had framed Empress Hwangbo for it. As a result, Empress Hwangbo, Wang Wook, Princess Yeon Hwa were all exiled and only managed to come back into favour when Wang Wook married Lady Hae.
Ep 8
Confrontation scene between Empress Yoo and Wang So, after she tried to find out why she was with the Crown Prince and if the latter an any illness. He is not longer seeking for her love but is anxious to protect Haesoo. At the same time, Queen now suspects Prince So's affection for Haesoo.
Haesoo helping Wang So to put on the make up for his scar. It's a longer scene. More close ups. hehe!
Ep 9
After Haesoo realized that Wang So would become Gwangjong, she became frightened and wanted to distance herself. So she gave him instructions on how to put on makeup himself. The scene came just before Lady Oh warned Haesoo to be careful of him. If she was unable to able to give him her heart, she should stay away.
Scene between Woo Hee and Minister Park (who was from the later Baekhje). I guess we will see more of her from next episode onward.
As the story develops, we see the characters making decisions based on the circumstances and the choices they had. Princess Yeon Hwa declared that she would no longer be a King's daughter or relative. Instead she wants to be the king maker. She decided to team up with Empress Yoo to poison the Crown Prince and frame Haesoo. With Haesoo dead, her brother Wang Wook would not have any distraction. He would also have likely strived to be king to take revenge on Empress Yoo and Wang Yo for Haesoo.
Many were commenting that Wang Wook was a coward for not going to Haesoo's aid. But it would have been impossible for him to abandon his mother and sister. Especially as his mother had suffered at the hands of Empress Yoo for so many years. He did not dare approach Haesoo later in the rain scene, not just because he could not do anything but also because he was too ashamed to see her. He could not and did not keep his promise to save her.
Haesoo had expected the 8th Prince to come to her aid, to be there, even if he could not help her escape her death. But the person who appeared by her side and fought for her was Wang So. In the final rain scene, when Wang Wook walked away, her heart was broken and her body slumped in dejection. But a few seconds later, she straightened her back and carried on her petition to the King, under the protection of Wang So. This signified the end of her hope, love and relationship with Wang Wook and a new beginning with Wang so.
Wang So has slowly developed into such an fascinating character. For him, with no power, no connection and no backing, there was little to loose. He was not seeking to be the King, only to be accepted. But those he did stand to loose, he was determined to protect at the cost of his death. Perhaps that may be the reason that turned him to the 'dark' side later. However, it is a fact that all kings have killed to remain strong. In the Chinese version, Yong Zhen (4th Prince) was known to have brought stability and did much good. That did not mean he did not kill. He killed his brothers and many others. But often with a reason. I guess they would also give Wang So valid reasons for the changes that would come later.
The 2 female characters- Lady Hae and Court Lady Oh only appeared for a few episodes but what an impact they made. I will no longer be able to listen to Im Sunhae's haunting song, 'Will be Back' without thinking about their roles and their dying scenes.
I'm really looking forward to the rest of the 9 episodes. As the 4th Prince, Wang So would say: "You are mine!"
Scarlet Heart airs every Monday and Tuesday at 9pm, same time as Korea. Catch it on Singtel TV Ch 513, 604; StarHub TV Ch 124, 820 and 823.