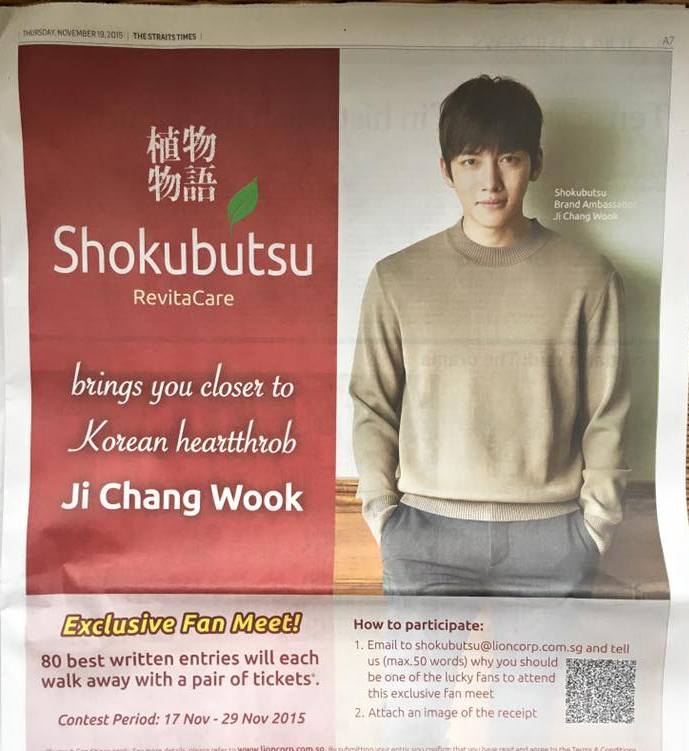 Did your heart skip a beat when you saw this full page advertisement in the newspaper about a week ago?
Yes, Ji Chang Wook, who has been riding high after the immensely popular 'Healer' will be in Singapore on the 6 December 2015. He has been appointed as the brand ambassador for Shokubutsu Singapore.
"We feel that Ji Chang Wook can best represent the new ideal
man, also known as "暖男" – thoughtful, caring, warm and pampering. These traits are a
perfect fit with our new luxuriously moisturizing Shokubutsu RevitaCare Body Foam that
pampers and cares for the skin gently with soap-free and dermatologist-tested formula."
Closed door Private event for Shokubutsu winners
Date: 6 December 2015
To win tickets to this exclusive event, just purchase a minimum $10 worth of Shokubutsu products. Include a short writeup (in 50 words) on why you should win the tickets to 'Shokubutsu Ji Chang Wook Exclusive Fan Meet'. Email your entry to: shokubutsu@lioncorp.com.sg by 2359 hour, 29 November 2015.
That means you have about 3 more days to win the 80 pairs f tickets to be given out. For more information, refer to Lion Corporation website here.
If you aren't among the lucky winner, don't fret. There is still a chance to catch him live.
Public appearance Event
Date: 6 December 2015
Time: 5pm
Venue: Suntec City, Level 1, West Atrium
I haven't been that excited for a long time. ^^