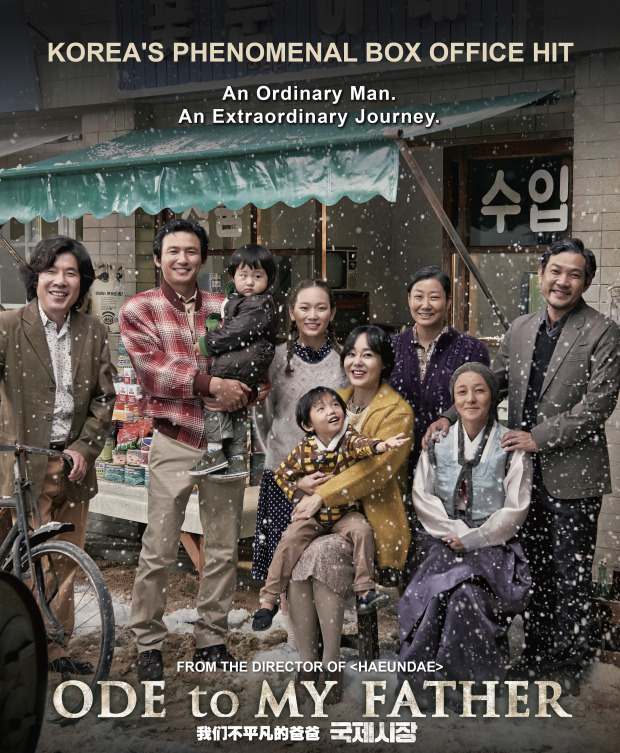 It's the weekend and here's something to kick start it off.
'Ode to My Father' is he second highest grossing movie in Korea to date. Spanning over 60 years, it traces the history of Korea through the eyes of an ordinary man. Living through the Korean War and then the Vietnam War to the present day, Yoon Deok Soo (Hwang Jung Min) worked hard to keep his family together after separating from his father and younger sister during the Korean War.
Korean Film Festival 2015 and Seoul Rhythms is giving away 2 pairs of tickets to the movie 'Ode to My Father' for a chance to watch this much acclaimed film. Just answer the following question. Answer can be found on Korean Film Festival 2015 website and Seoul Rhythms website. Email your details and answer to contest@seoulrhythms.com.
Q: Who is the director of 'Ode to My Father'?
1) Your name on your i/c
2) Your contact number
3) Your email address
Please note the details for the movie:
Date: 25 October 2015 (Sunday)
Time: 6.50pm
Venue: Shaw Theatre, Lido
The movie is rated PG 13. Tickets can be picked up from the organiser 30 minutes before the movie.
Things to note:
– Contest is open to residents of Singapore only
– Contest ends at 12noon, 20th October 2015
– Winners will be picked randomly
There will be another contest next week for another movie. Watch out for it.