Korean BBQ is here to stay. Every other Korean restaurant has 'BBQ' attached to it's name. So when I saw Nanta BBQ during my weekly trip along Thomson Road, I didn't pay much attention beyond the fact that it has "Nanta" in it and I vaguely wondered if it was related to the famously popular non-verbal show from Korea. That and the pig just outside the restaurant.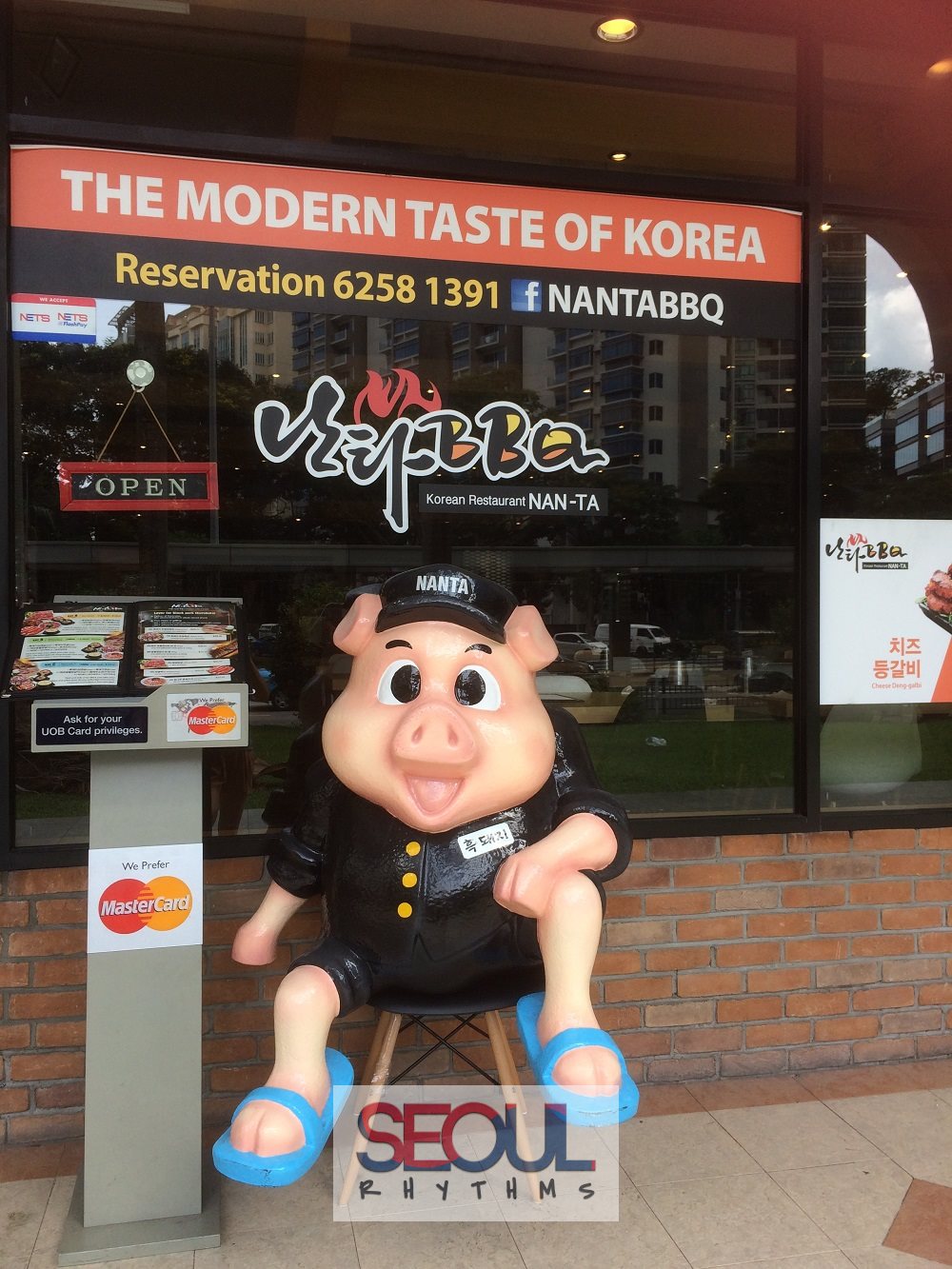 I was given a chance to try out the food last month and was pleasantly surprised to learn that they have dishes not available in most BBQ eateries.
One of them is the Cheese Pork Spare Rib (Cheese Deng‐galbi).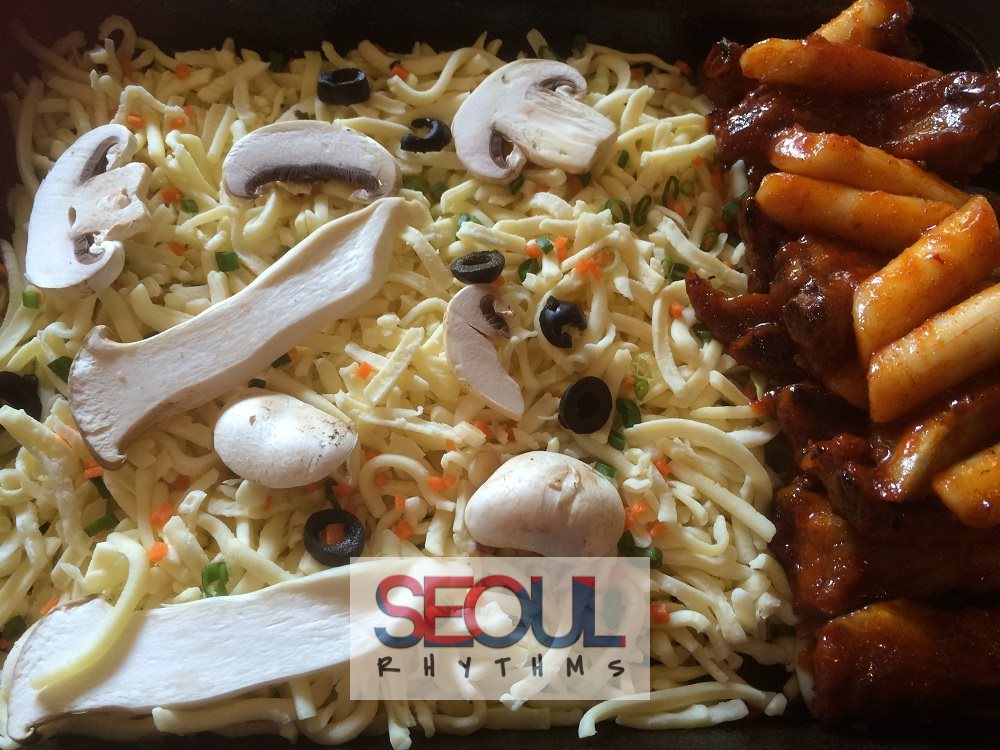 Set A @ $55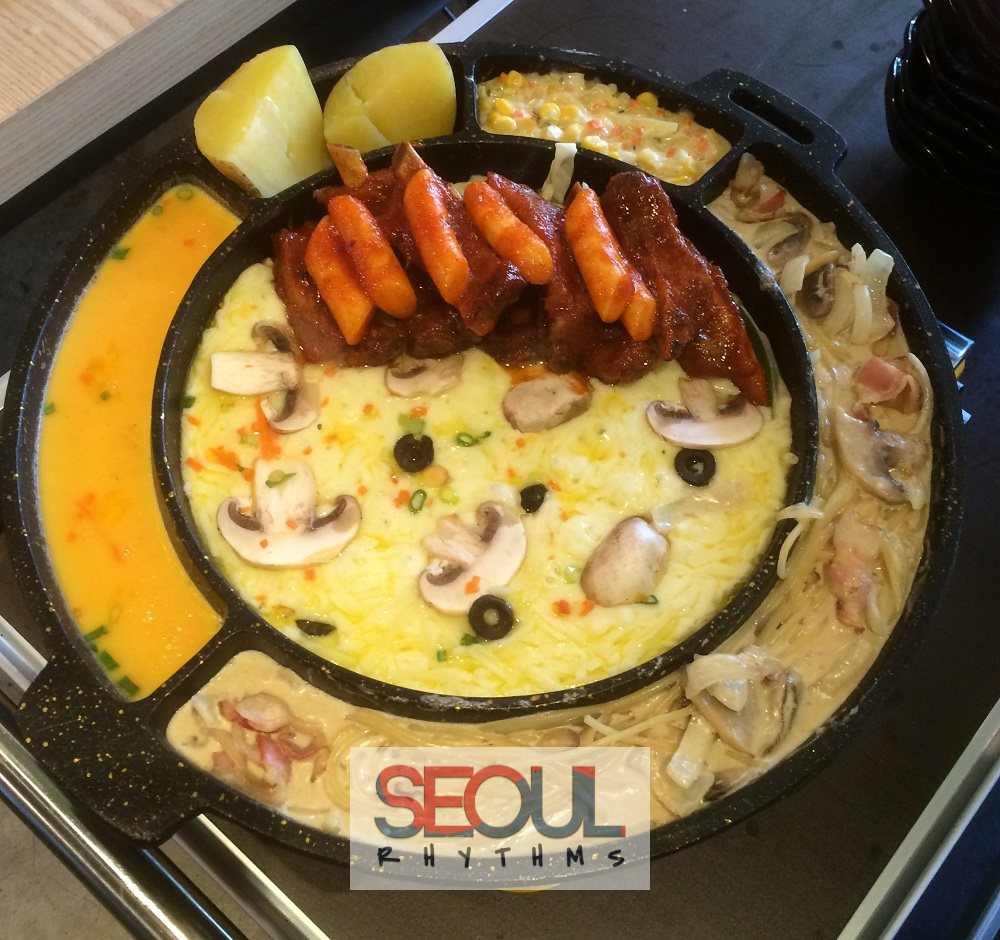 Set B @ $58
The special round pan only arrived that very morning all the way from Korea. And in the pan, there are steamed egg (not watery and yet, soft enough), mushroom with carbonara, buttered potato and corn on the sides. You can also opt to have it with fruits instead of mushroom, but personally, I find the fruit combination a little weird. Those who have tried it, let me know how it tastes. The combination of tender pork ribs with the hot melted cheese is simply divine. If you like cheese in your kimchi noodles, you would love this. But be warned, it can be a bit too filling.
If you're hankering for more cheese, you could also try out the cheese teokboki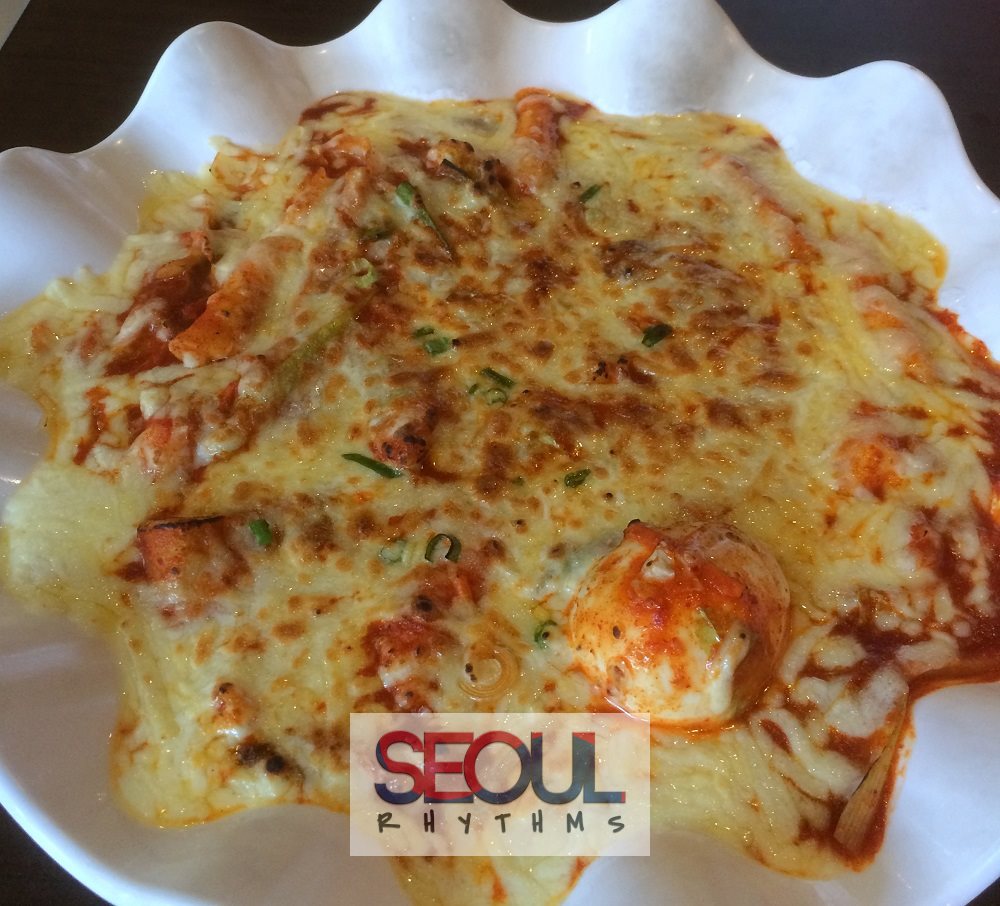 For more fusion, there is also the carbonara teokboki. It reminds me of pasta, not quite my cup of tteoboki. Hehehe!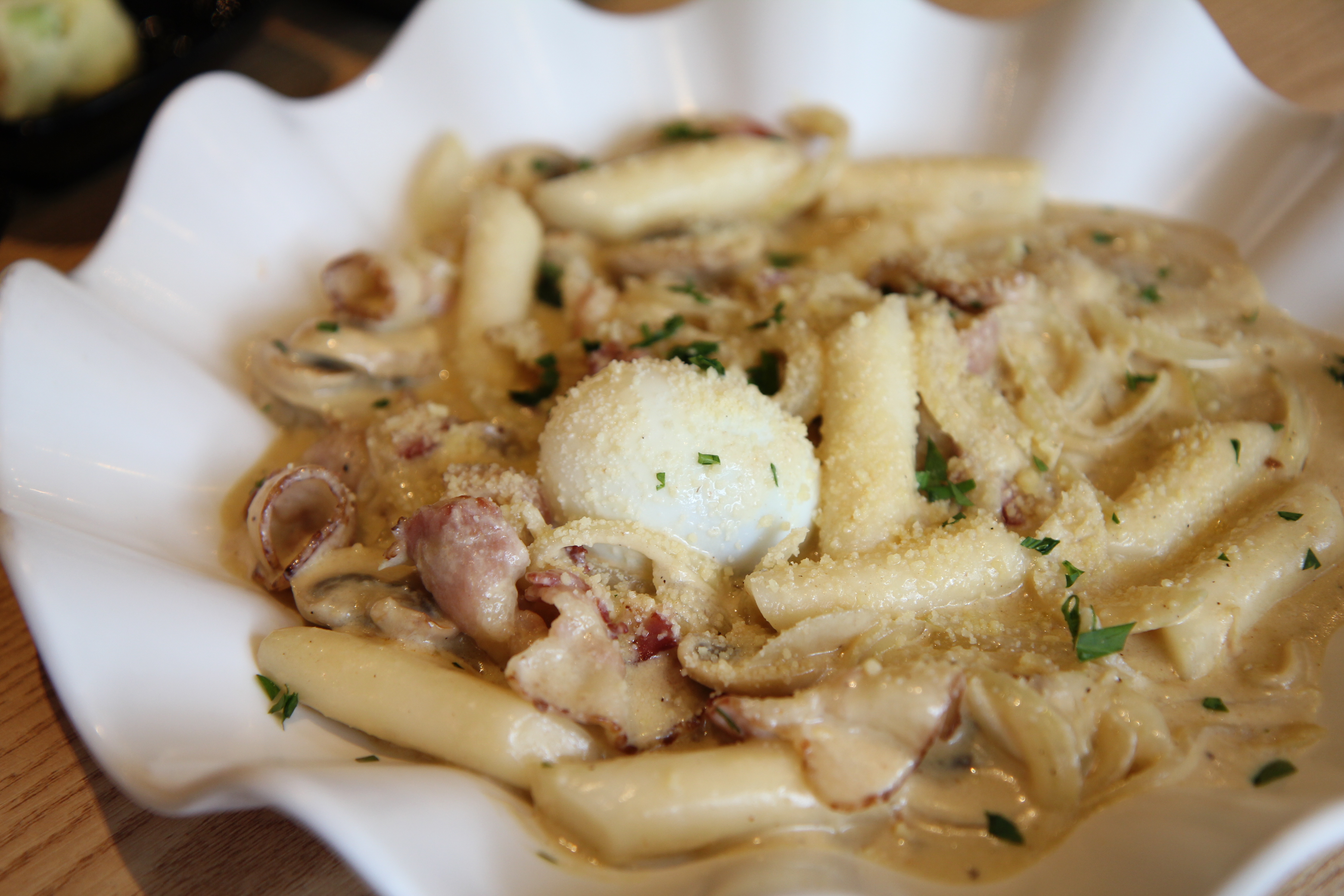 I still prefer the traditional type. It's at $29.90 and supposedly serves 2-3 people. But if the portions are as generous as the dishes that were being served to us, it would probably feed about 3-4 people, especially if you plan to order other dishes. You can also choose to add other ingredients at additional charge. Fish cake.. yummz.
Almost everyone loves Budae Jjigae. It's the equivalent of our steamboat. There's just so many ingredients in it and the soup by the end of the session absolutely packs a punch in terms of flavour. We had 3 different types to try.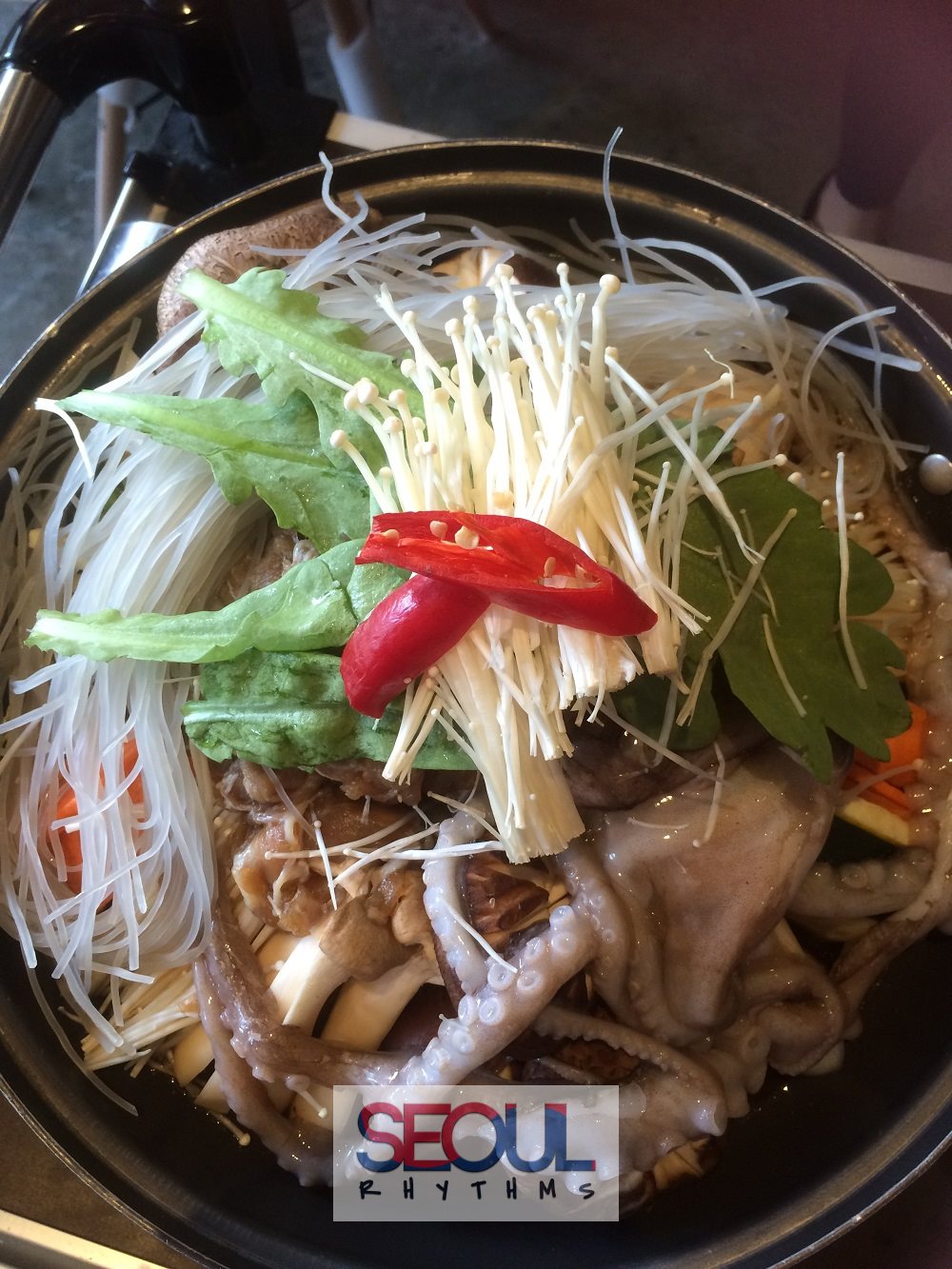 Beef Bulgogi with octopus in beef broth @ $45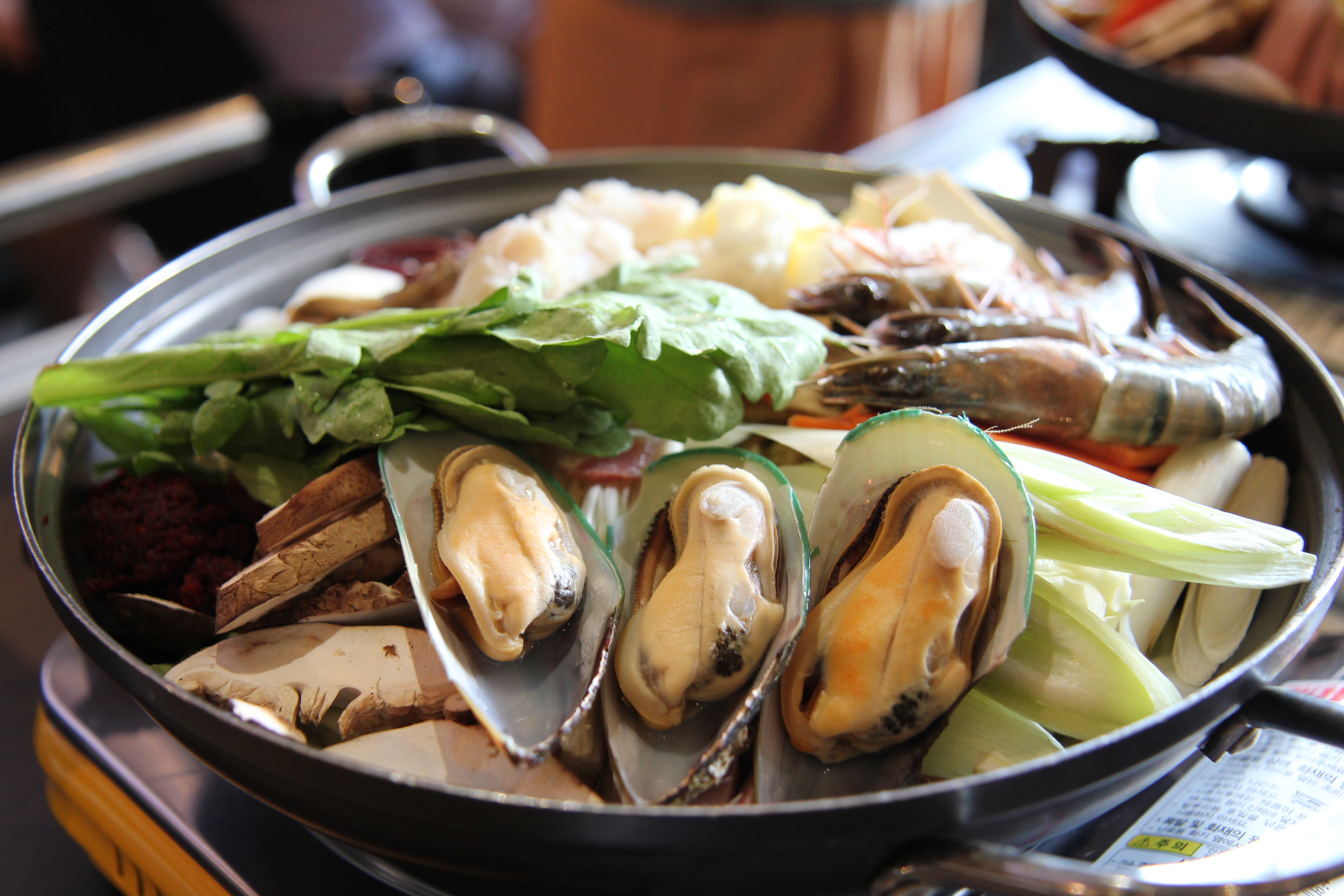 Wonjo Budae Jjigae with Seafood Topping in beef broth @ $39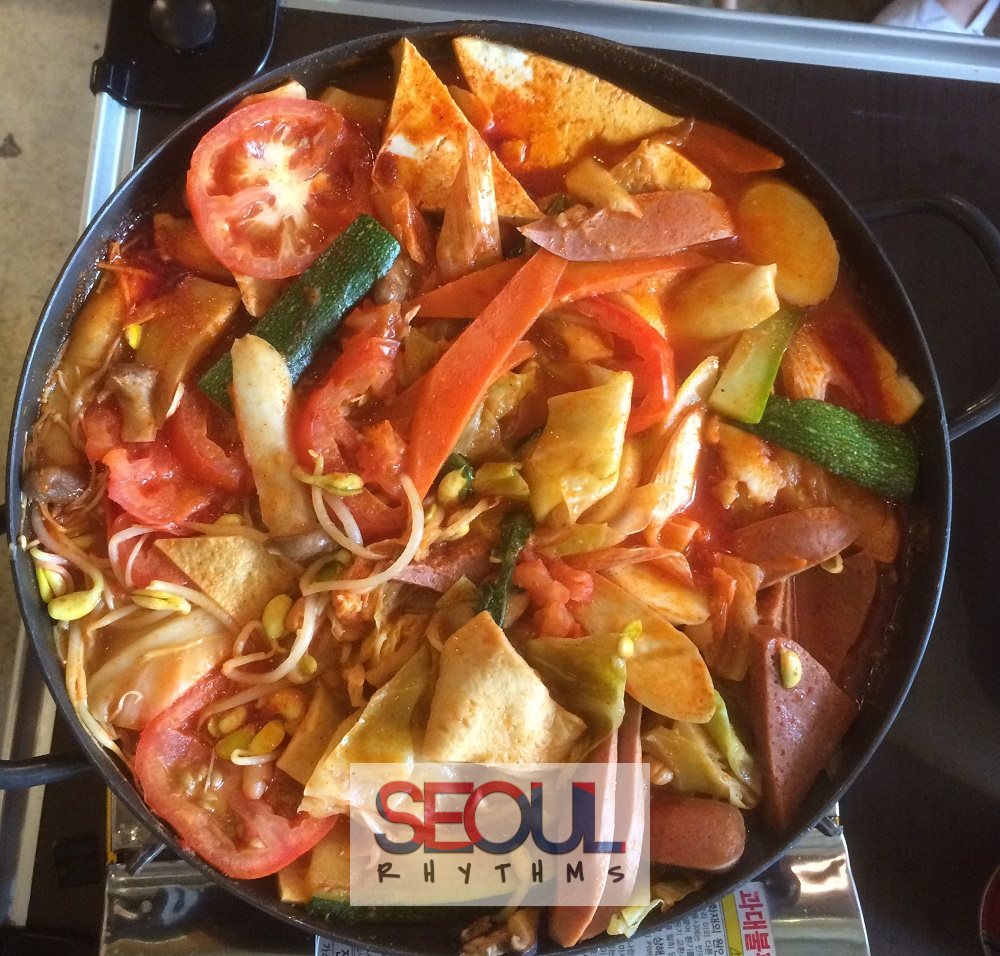 Tomato Bundae Jigae in chicken broth and milk @ $42
The Beef Bulgogi was sweet and the octopus tender, fresh and chewy. If you like bulgogi (as many do), then you would like this dish. It's great for those who may find the budae jigae too spicy. I slurped up the soup. Hmmm… yummy
Bundae Jigae was chock-a-block with ingredients, including generous bug mussels, prawns, scallops, crabs, squid. I'm not sure if the portion was bigger because it was food tasting session, but I hope not. Spicy level was just right too.
The restaurant has also introduced the Tomato Bundae Jigae that has reduced salt in it's stew. Frankly, I find it a little too bland for my liking. I think if you are going to take Bundae Jigae, the stew has to be robust enough to be enjoyed. Otherwise, it seems to be a waste of my calories. But that's just me, who is not seeking for a 'healthier' meal. Hehe!
And since it is called Nanta BBQ, there has to be BBQ in my review right?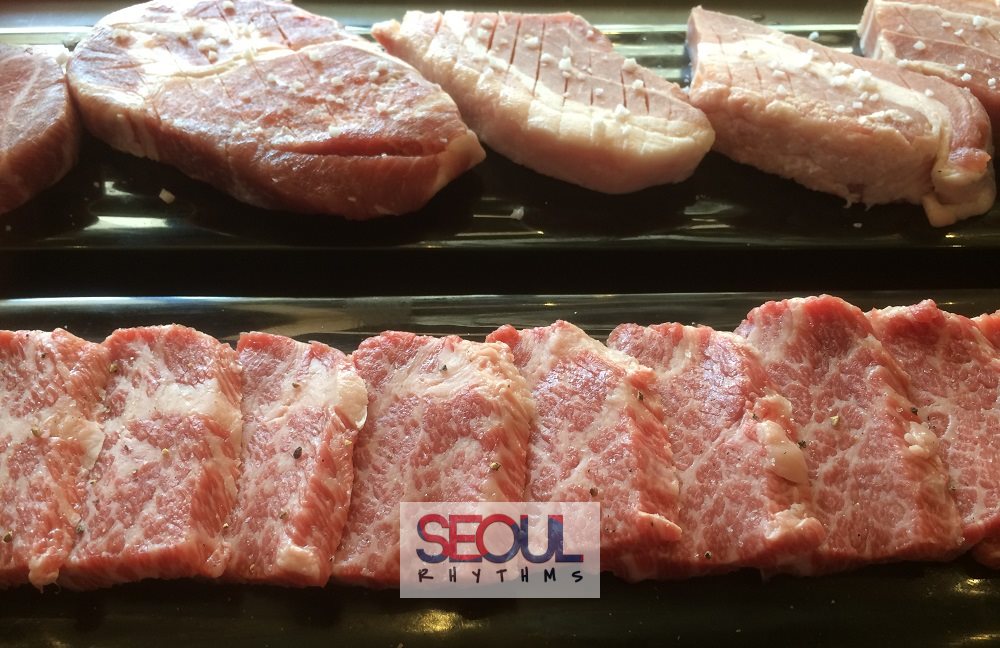 On the plates are wagyu, black pork (Kurobuta) belly and pork collar cuts.
They were grilled in the kitchen first and then grilled on the table (in our case, by the side) for the final 20%. So, for ladies who dread the smokey smell that lingered on your clothes and bags long after the BBQ-ing, this is a great option.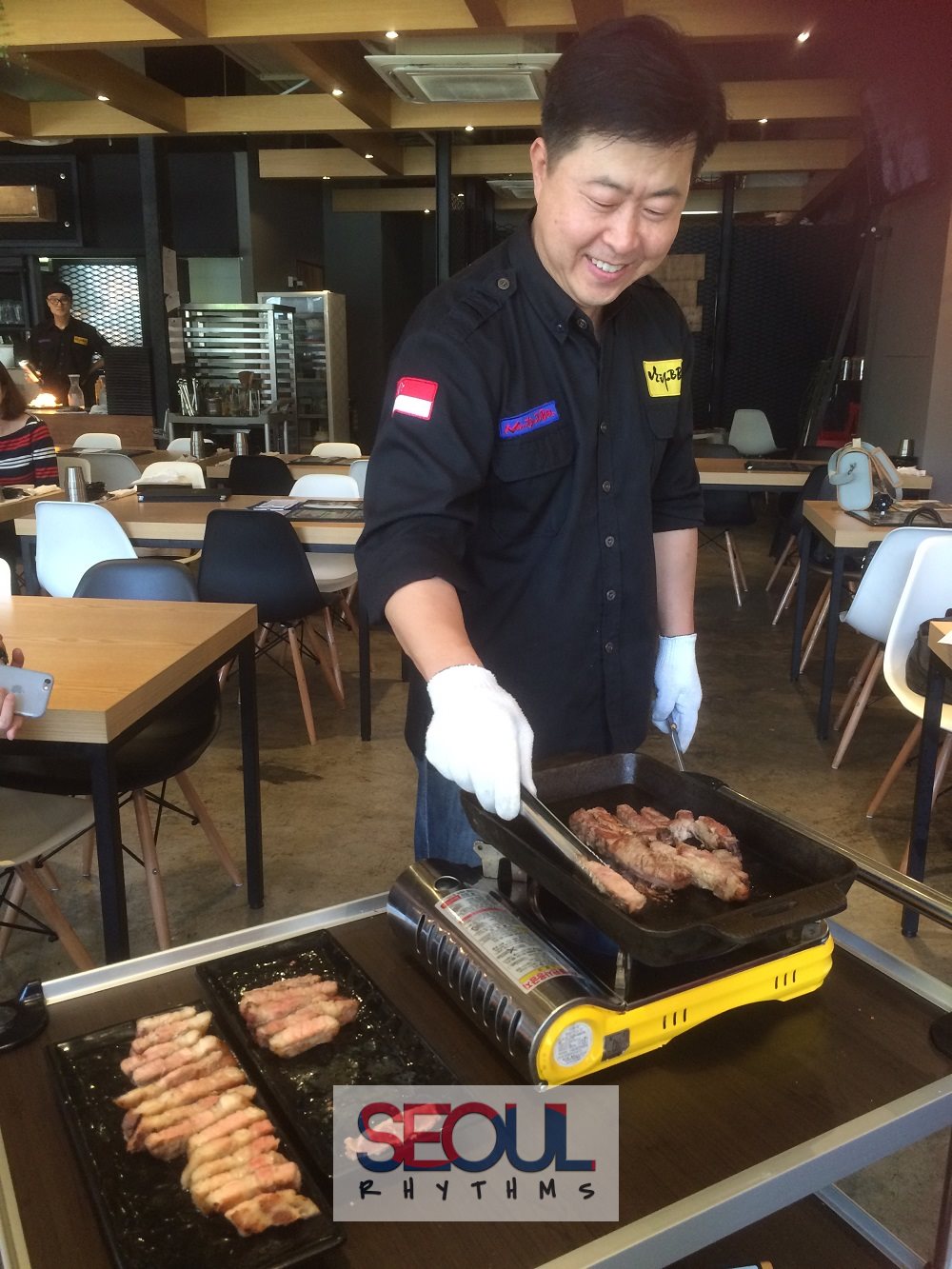 The owner, personally grilling the meat for us.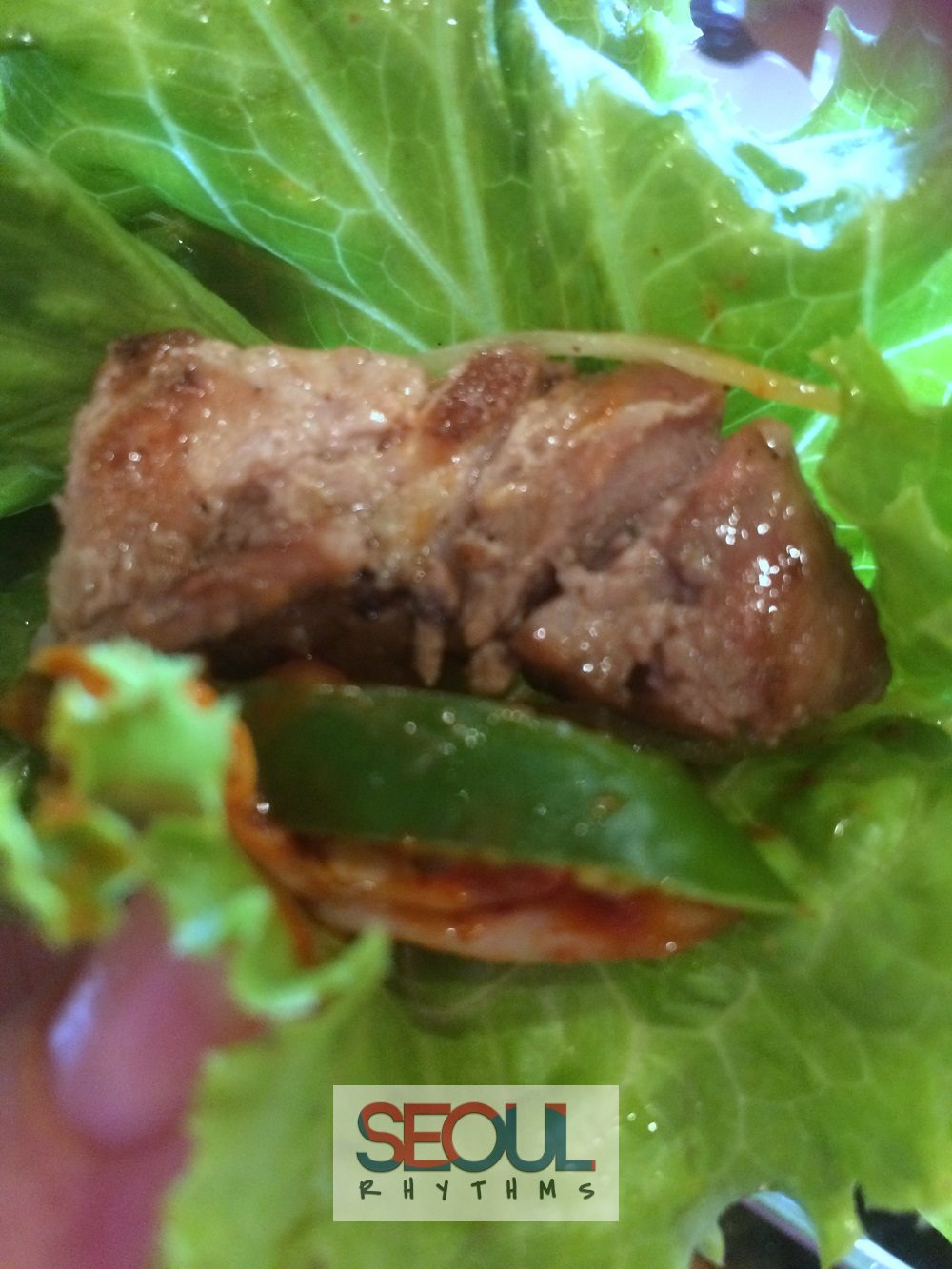 The wagyu beef was delicious. You can have a choice to have the pork collar cut into 0.5cam or 2cm. I would advised having the smaller cut as I found the thicker cut too much of a mouthful and hence slightly less enjoyable.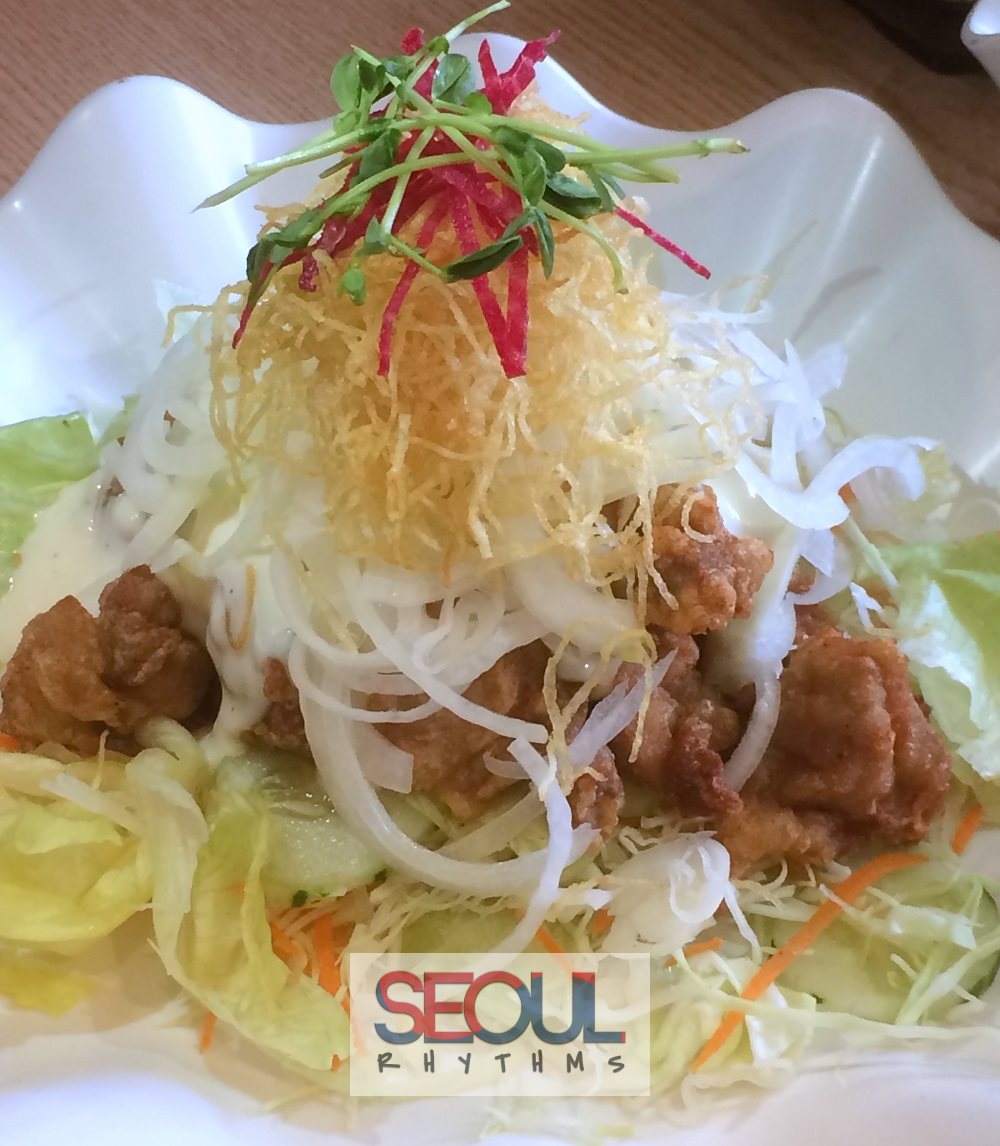 Crispy fried chicken salad
We found the crispy fried chicken really delicious. The chicken was crispy and not oily at all. The salad was a great accompaniment to the meat. But strangely, I could not find this dish on the menu.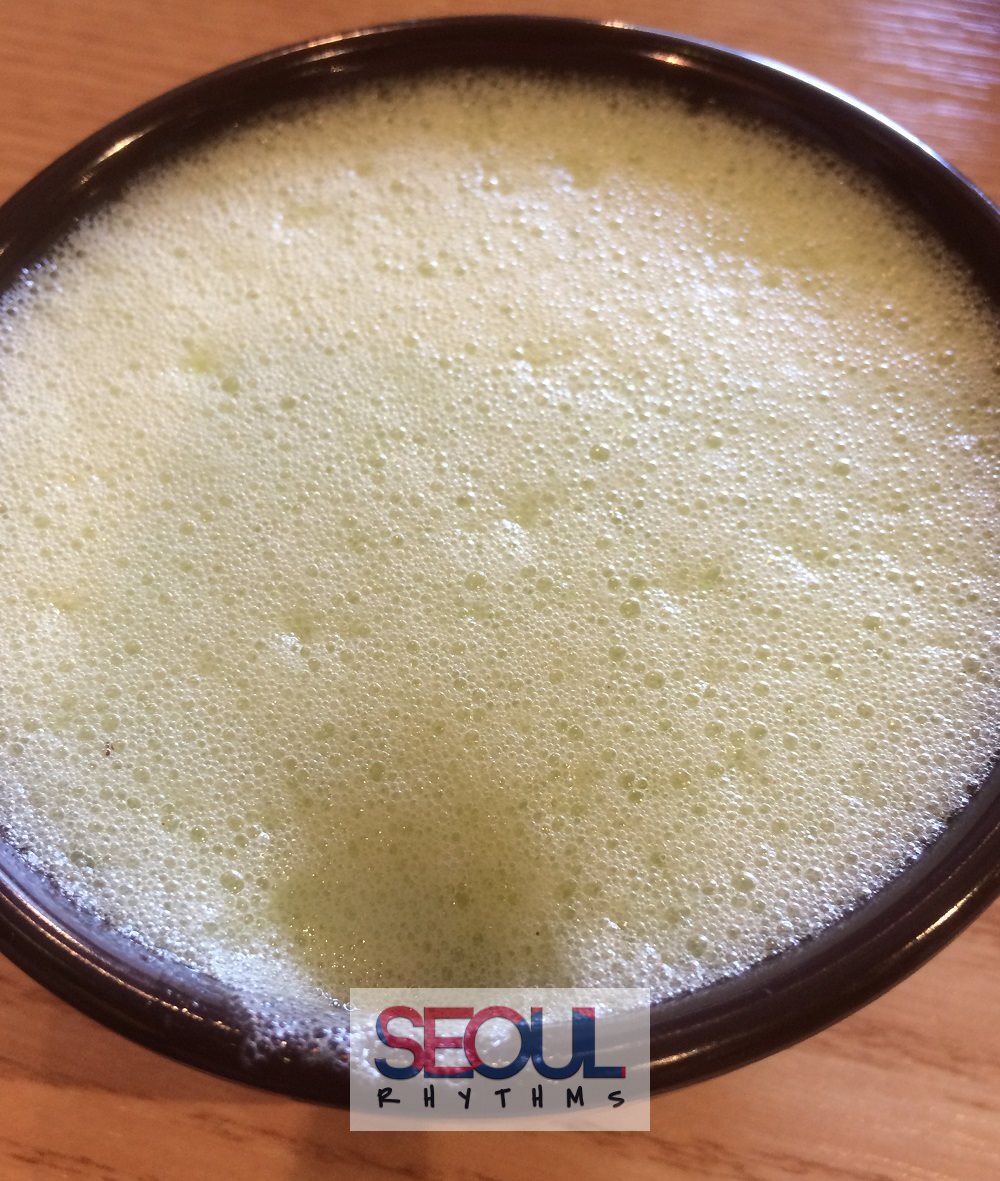 The other thing to try is their drinks. The kiwi soju cocktail is really unusual and sweet. But at $38 per jug, it's a little steep. Still, if you are having a meal with friends, it would be worthwhile to share. I would like to try out the watermelon soju cocktail next time.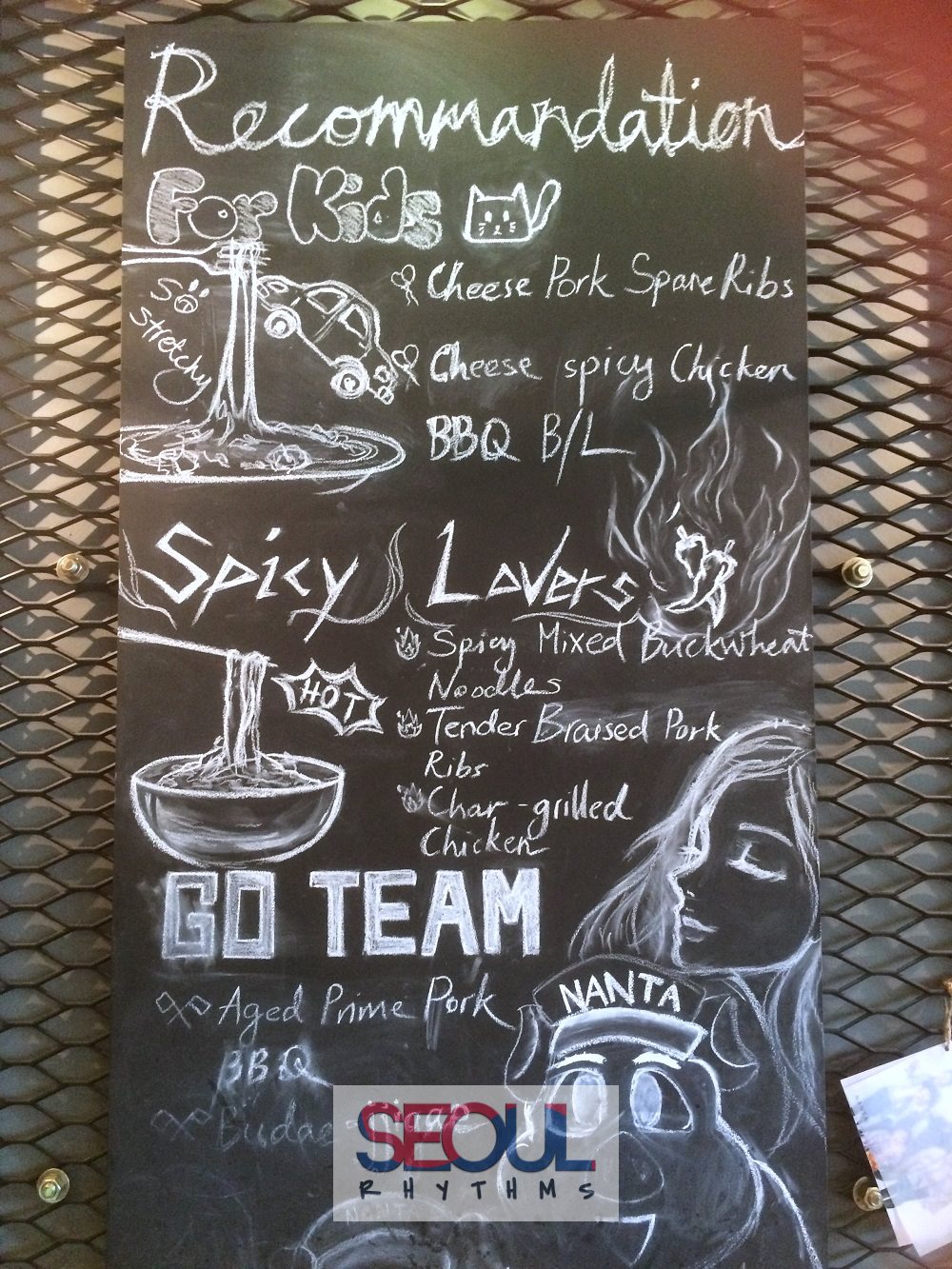 Nanta BBQ is at #01-175 / #01-177 Goldhill Centre, 175 Thomson Road S307624, Singapore 307624. Tel: 6258 1391. It is open from Mon – Sun from 11:30am – 3:00pm, 6:00pm – 11:00pm.
Goldhill Centre is right next to United Square, which is a favourite family destination with it's many children enrichment classes. So if you are at a loss at what to eat after picking your children up, you might want to give this a try and avoid the crowd at United Square!.
For people working around that area, there are various promotions on each day of the week and also discounts. Give them a call to find out about it or check out their FB for more information. For more photos on the food that I had, check out my FB.