It was probably one of the biggest press conference this year to date, certainly in one of the poshiest hotel so far- W Singapore. But as one of the most popular variety show currently, the cast of Running Man has legions of fans from everywhere and every media wants a piece of action.
Five of the seven regilar cast members were in Singapore for a fan meeting- Jee Seok Jin, Haha, Kim Jong Kook, Song Hyo Jin and Gary. Lee Kwang Soo was still in Korea filming Jung Yi, 'Goddess of Fire' whilst Yoo Jae Suk was busy hosting other programs.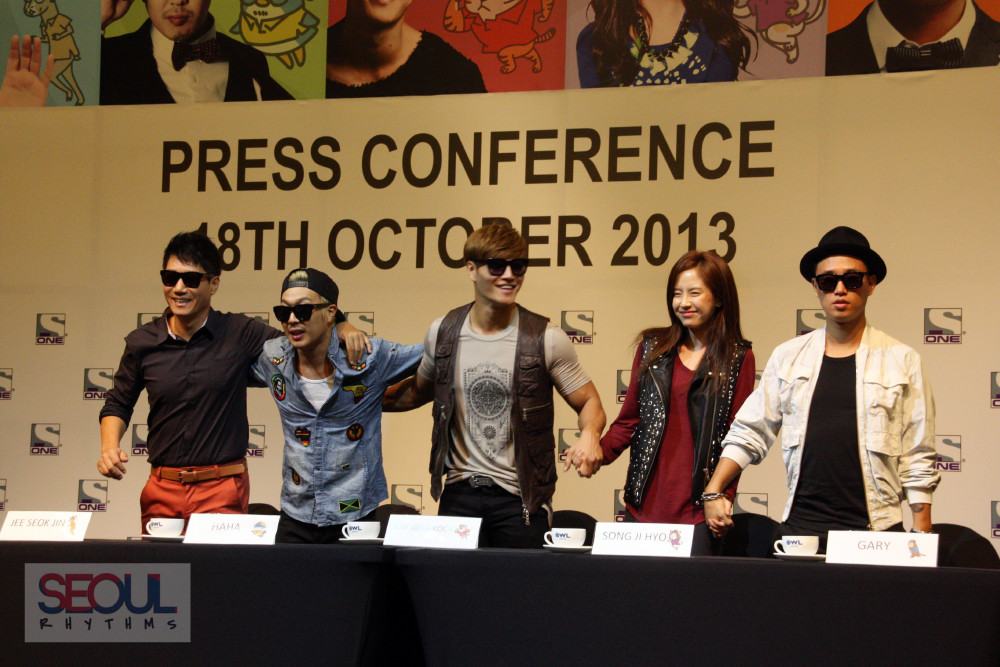 This was the first time Song Hyo Jin was joining the cast for the Running Man tour and she was really excited about it. When asked if she was treated differently as the only female in the all male team, she replied that whilst there were some differences, she was just part of the team and being the only woman did not change that. In fact, Kim Jong Kook mentioned that she is very strong. (and sometimes, even stronger than them).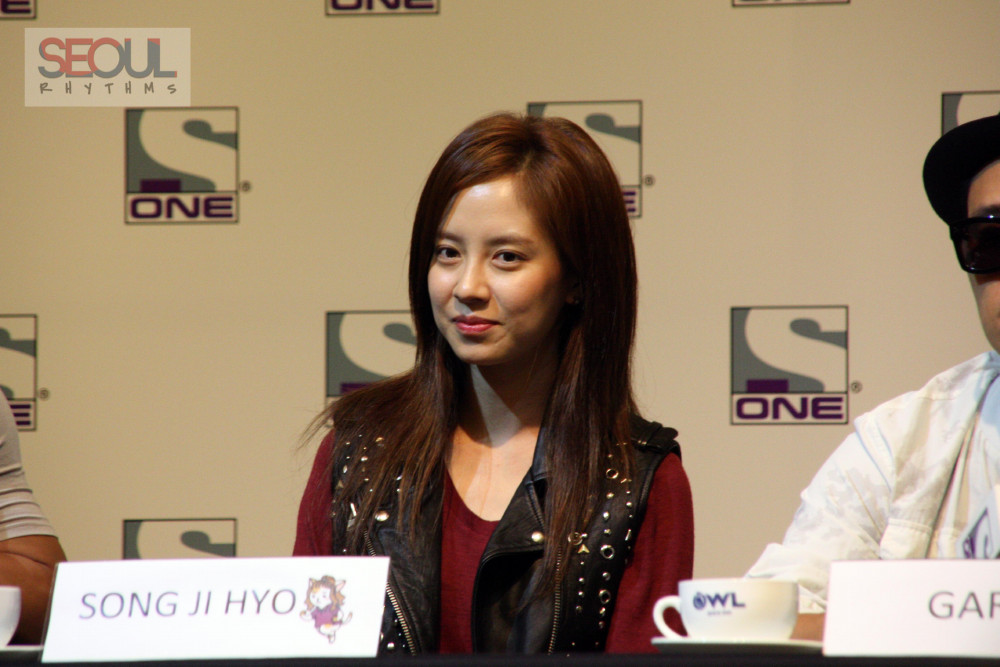 Gary had his usual 'I'm cool' face during most of the press conference until he was asked about his kiss on Song Ji Hyo during a recent episode…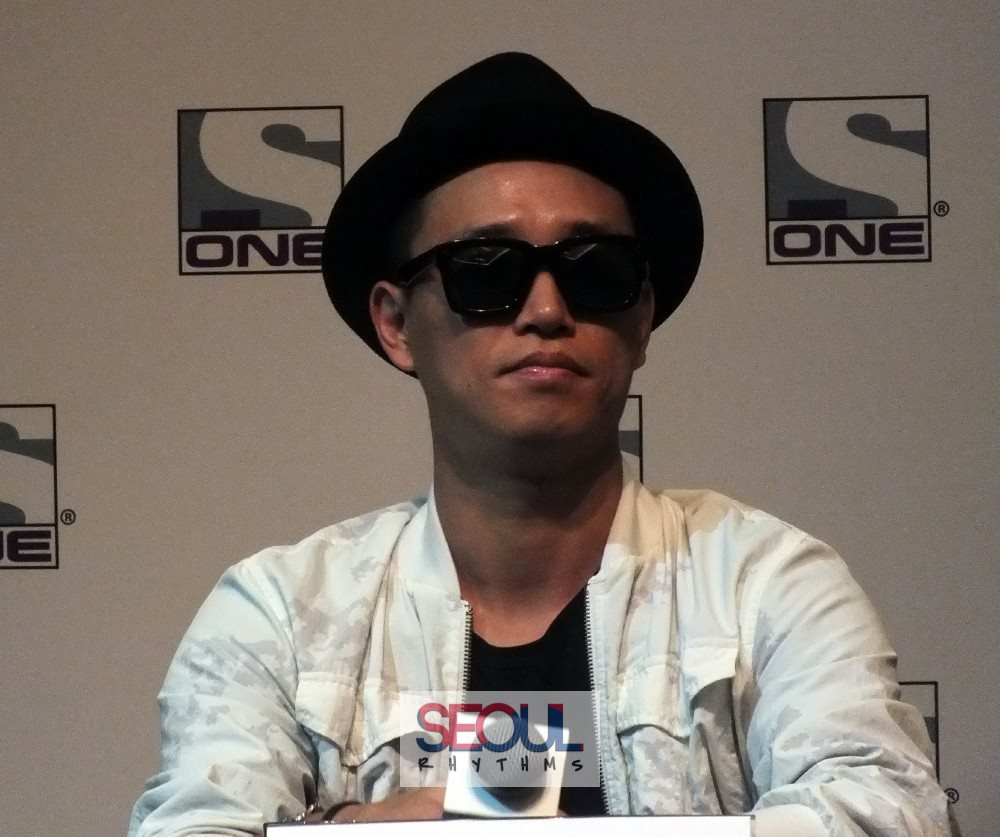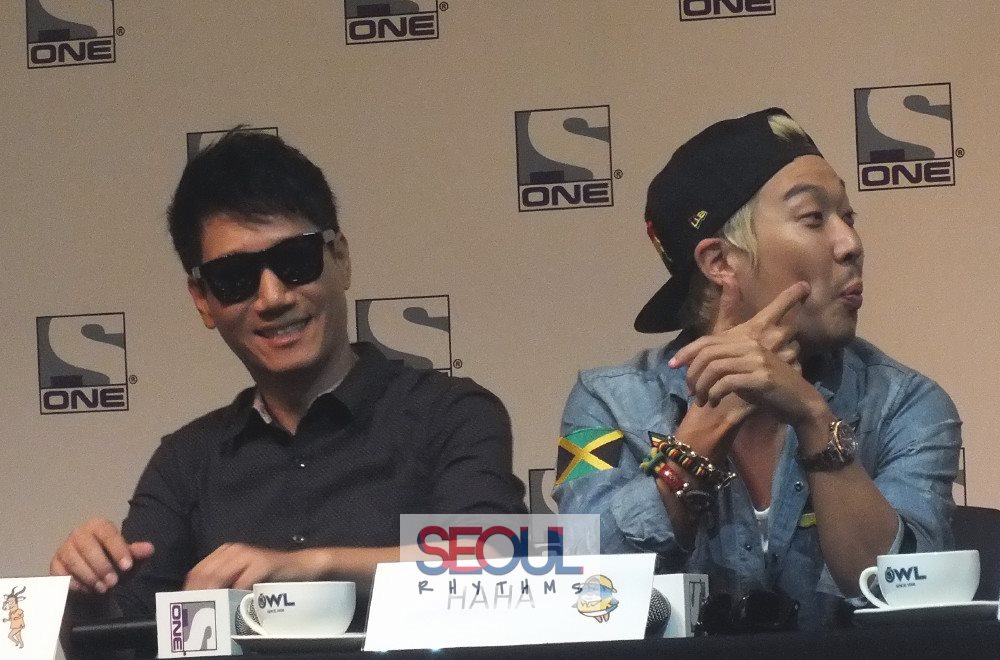 Which drew the response 'it was good' from Song Ji Hyo as well as no end of teasing from the other three.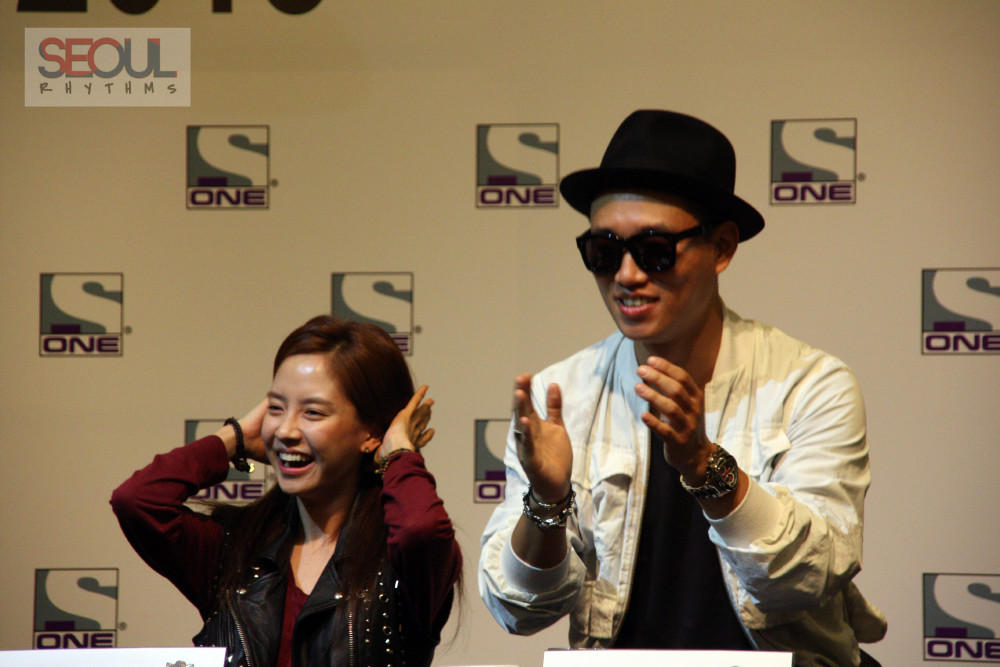 Certainly, Running Man is a physically demanding show, as evidenced by the back injury suffered by Kim Jong Kook. And in almost every episode, the cast wished they could stop 'running' but I'm sure they wouldn't have it any other way.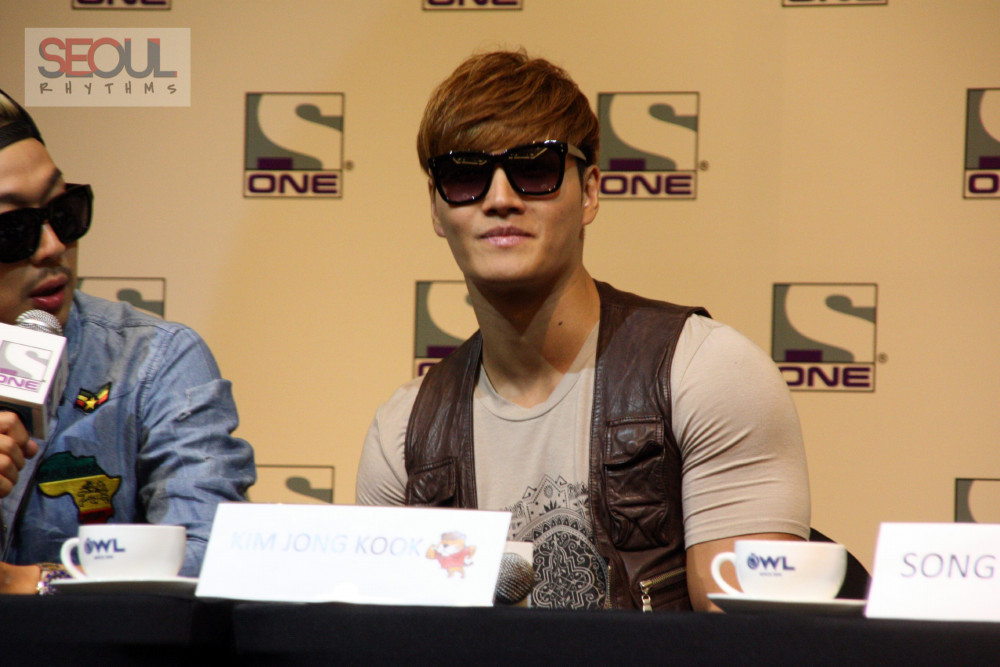 Having had so many guests artists on their show, we were all curious if there was anyone they could work with or invite back again. The answer? The first ever international idol K Pop group, Shinhwa! I would certainly love to see them on the show again.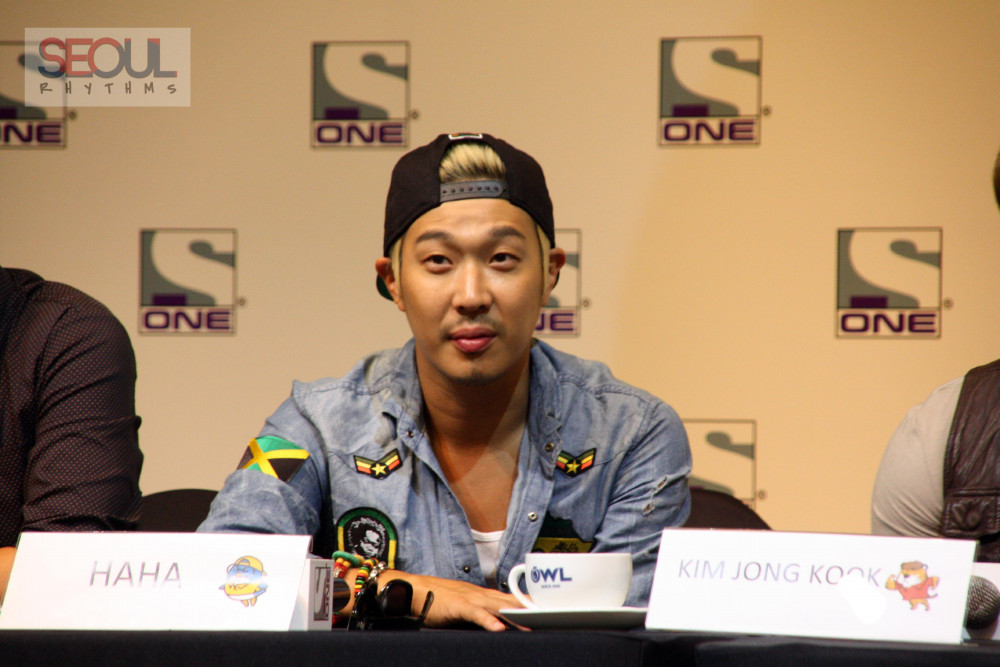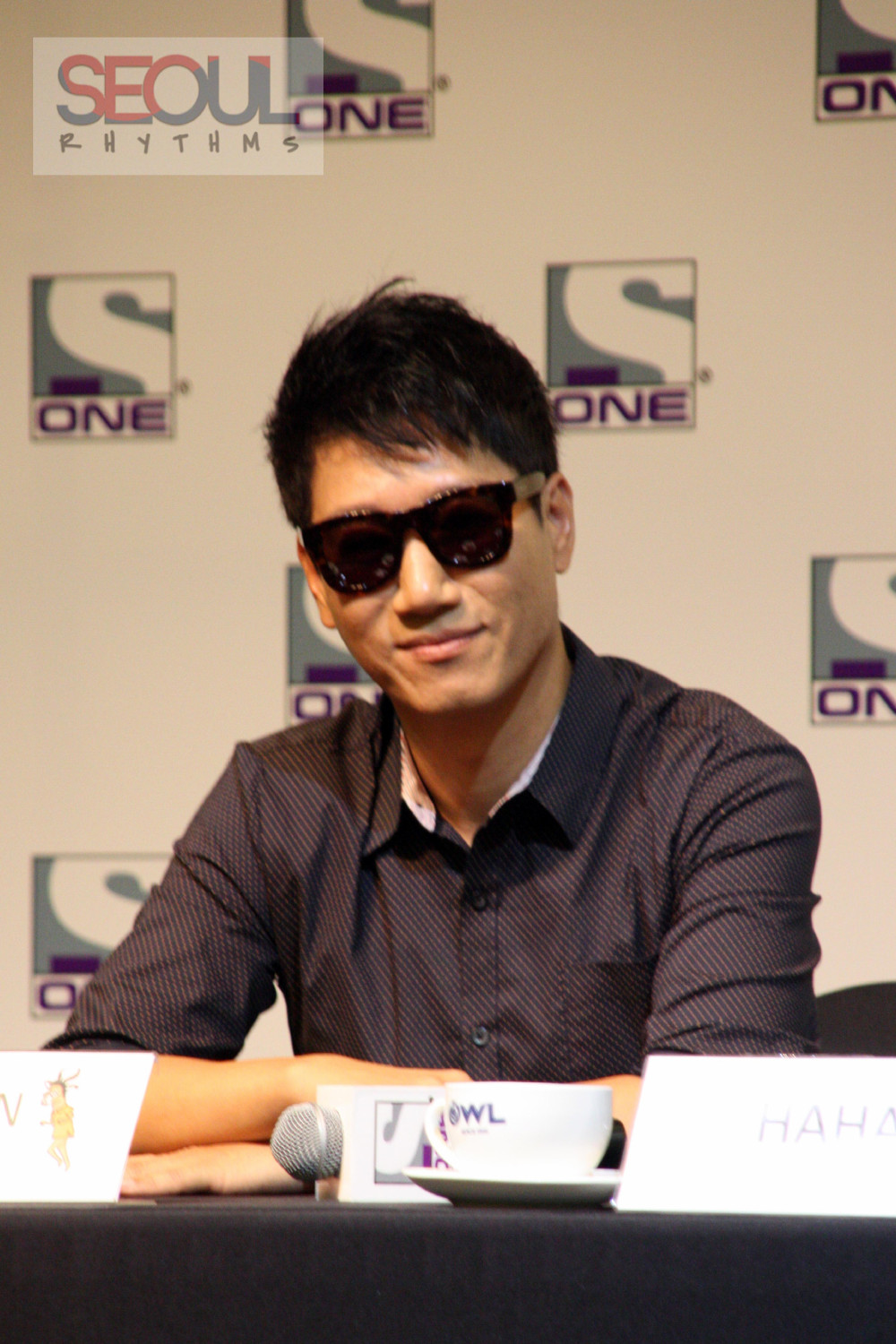 An autograph session was held the next day at Jurong Point and it attracted as many as 4,000 fans, all craning their heads for a better look of their favourite Running Man member. Some lucky fans managed to het their hands on the coveted signatures.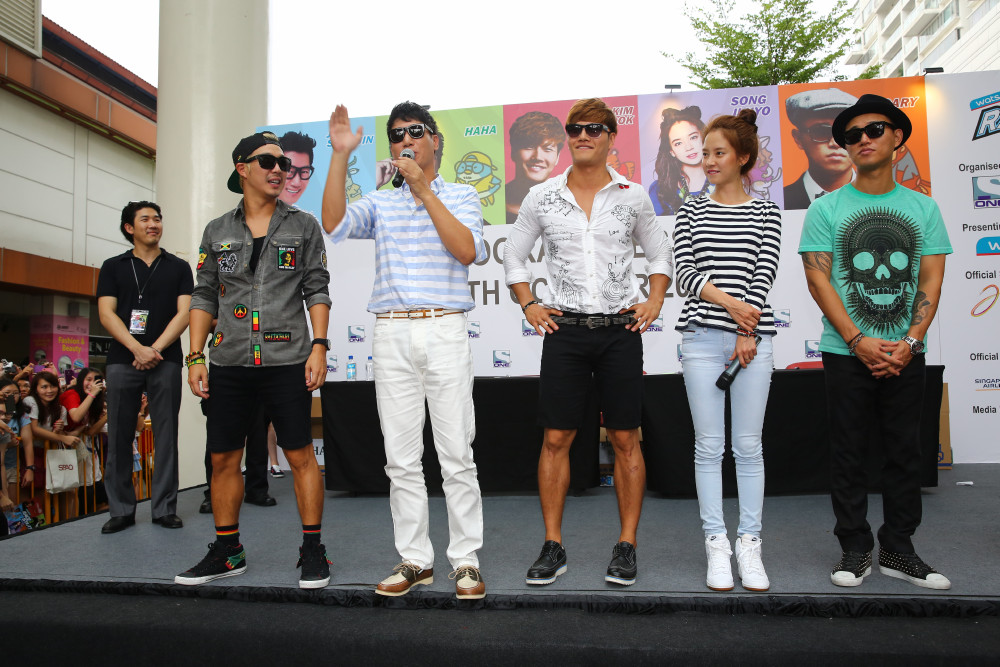 credit: Channel ONE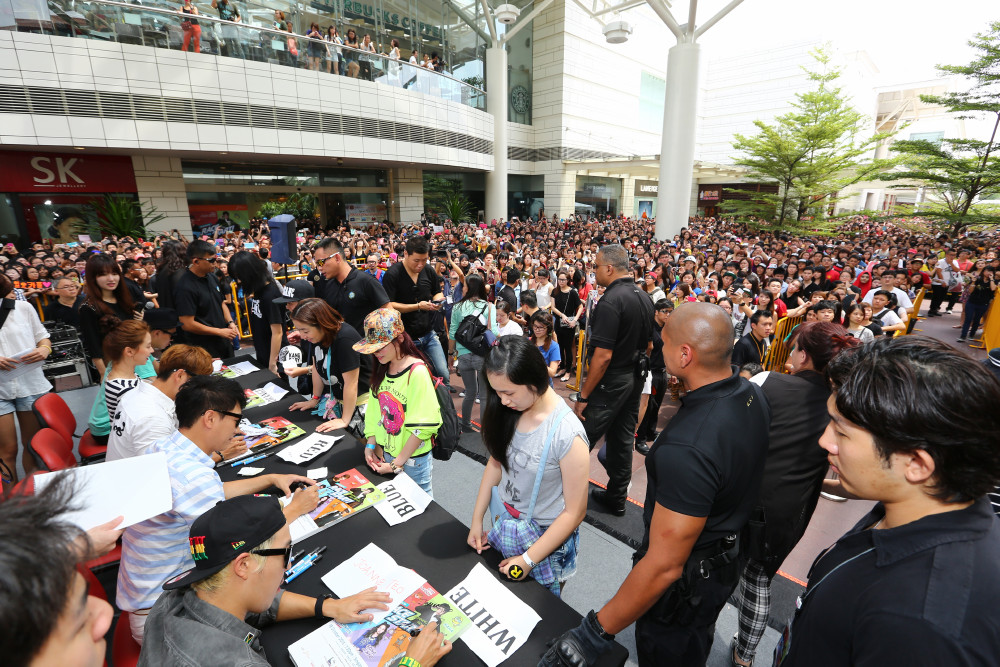 credit: Channel ONE
That night, the line started to form early for the fan meet. At 7.30pm. the familiar tune of
'Boys Over Flowers'
theme song, 'Almost Paradise' with Song Ji Hyo as the lead- parodying Jang Geum Di. It was absolutely hilarious but also brought back much sweet memories of this very popular drama.
The cast had a short Q&A session on stage and of course the Monday couple was teased mercilessly, especially when Song Ji Hyo and Gary complimented each other as sexy.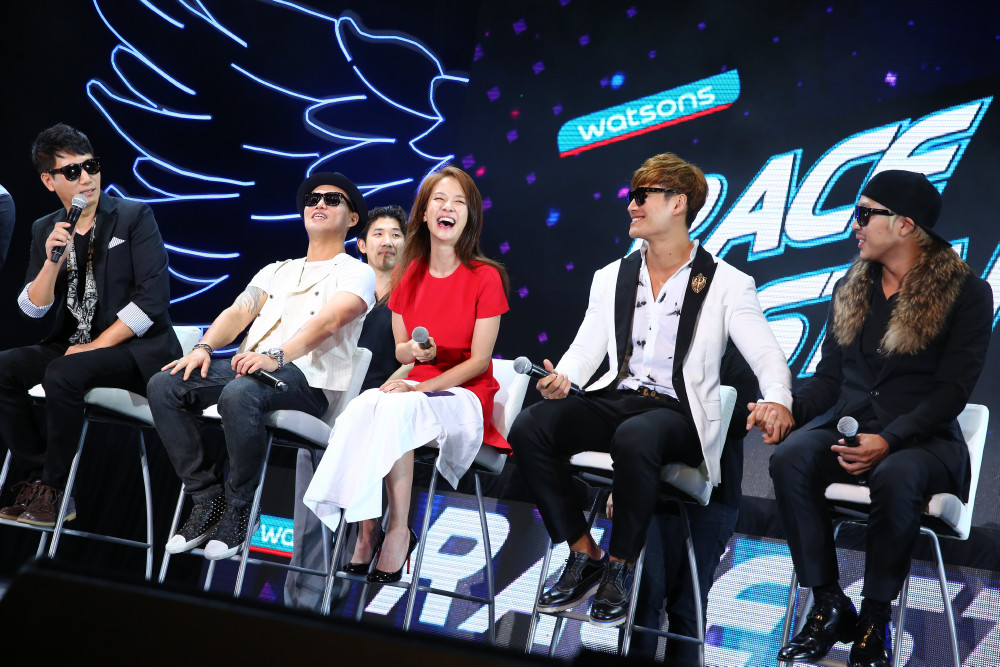 credit: Channel ONE
You can't have a Running Man fan meet without games. And so, fans (who were pre selected earlier), came on stage to play with the cast.
The Running Man team was divided into Team A (Gary & Jee Seok Jin) and Team B (Kim Jong Kook & Haha). Song Ji Hyo as Ace would participate in both teams and a total of 4 games were played including charade and tug of war with strong man Kim Jong Kook against 11 female fans. Unfortunately they were still no match for Sparta. The games drew much laughter from the audience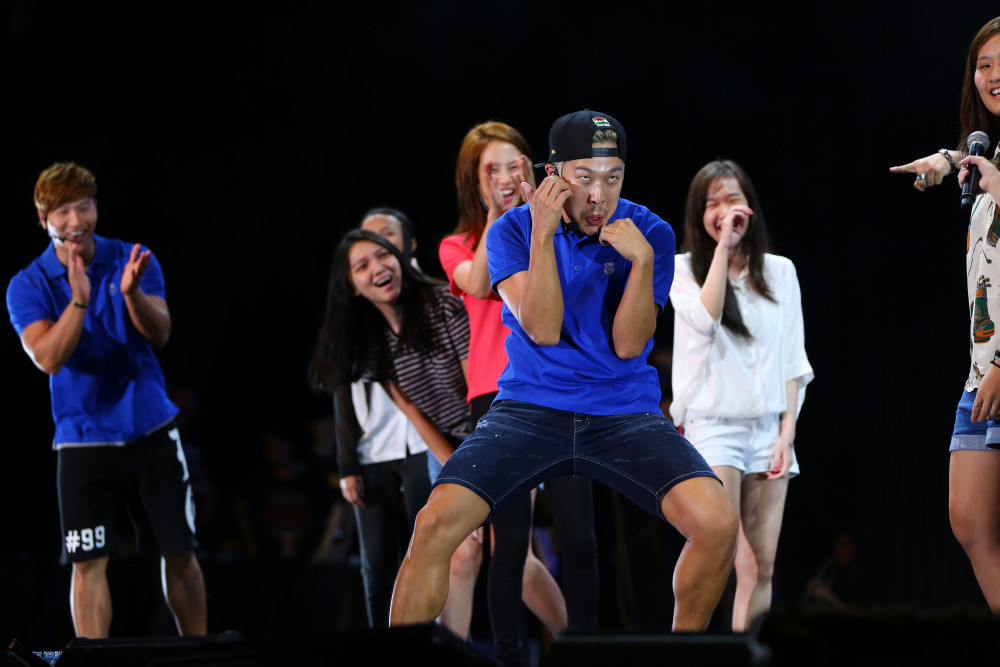 credit: Channel ONE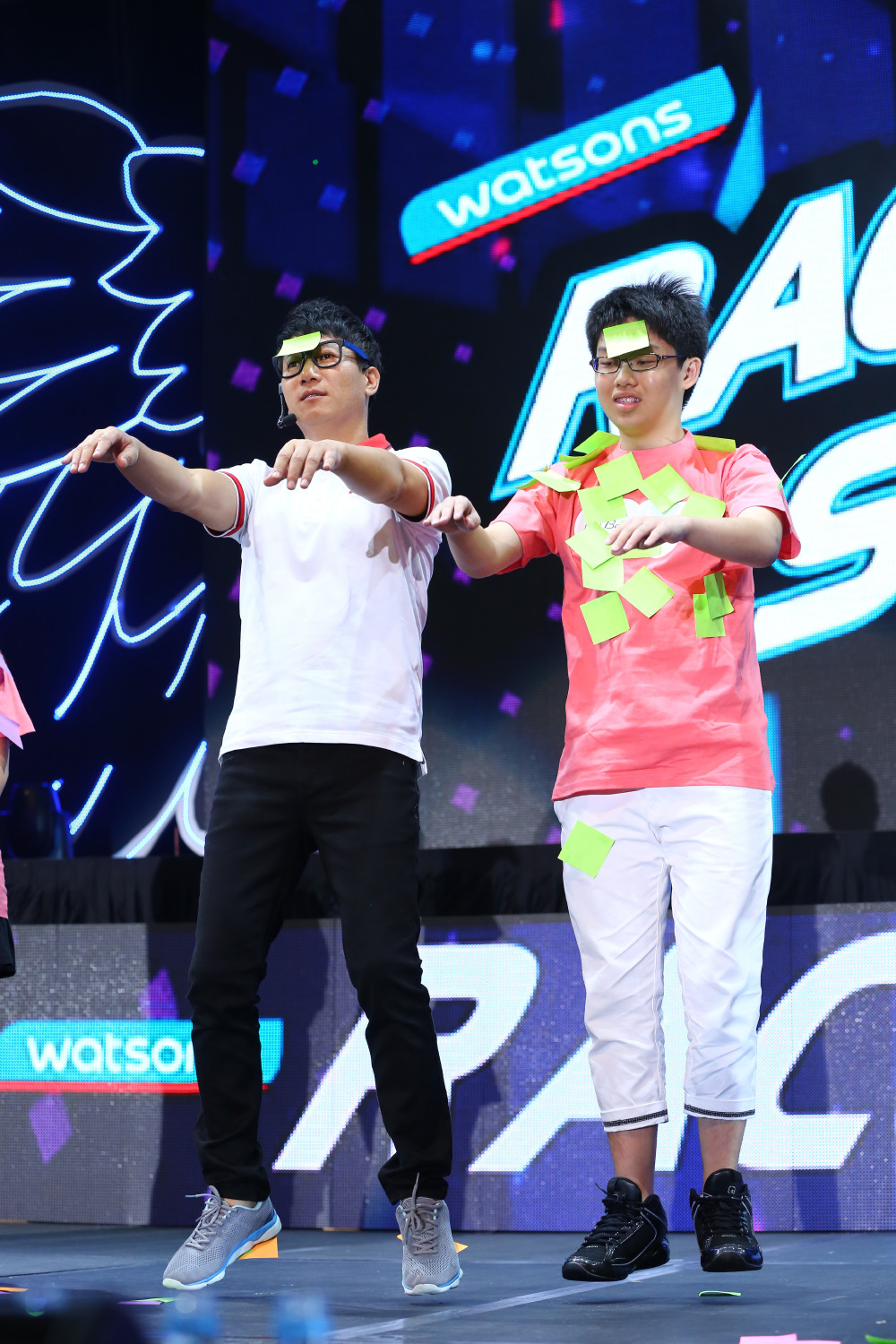 credit: Channel ONE
After all the games, it was time for the stars to perform. Thankfully, all of the them except for Jee Seok Jin and Song Ji Hyo are singers, so it was no problem. The Monday couple did a duet and was a great favourite. But it was Haha, the funny man of the show who sang his famous Busan song and got everyone to stand up.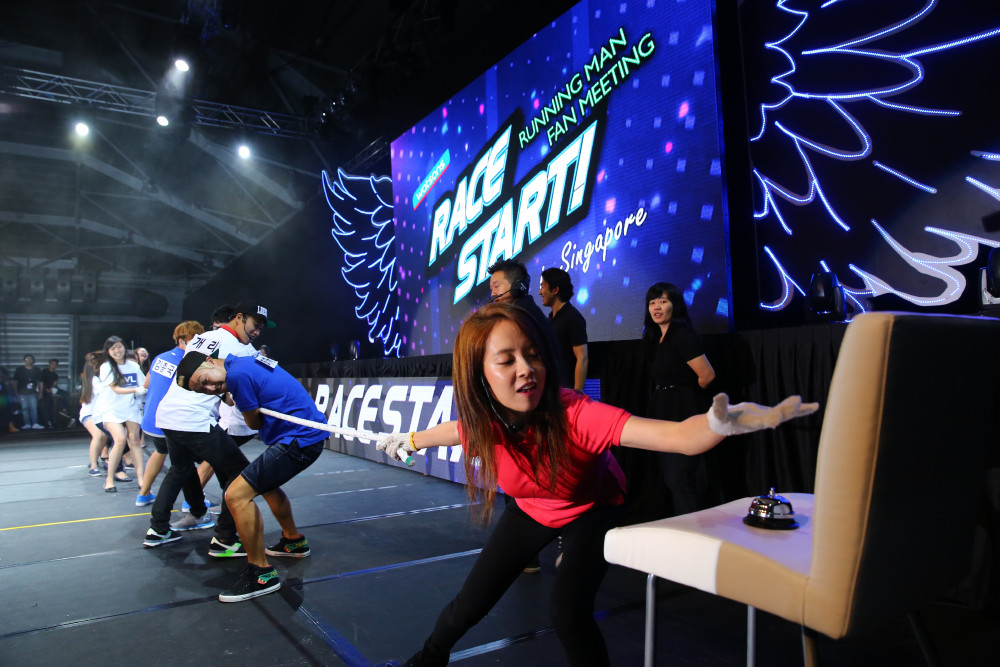 credit: Channel ONE
The whole show ended on a high note with the Running Man team singing to one of Kim Jong Kook's most popular song- 'Loveable'. And right on cue, everyone stood up and started singing and clapping along.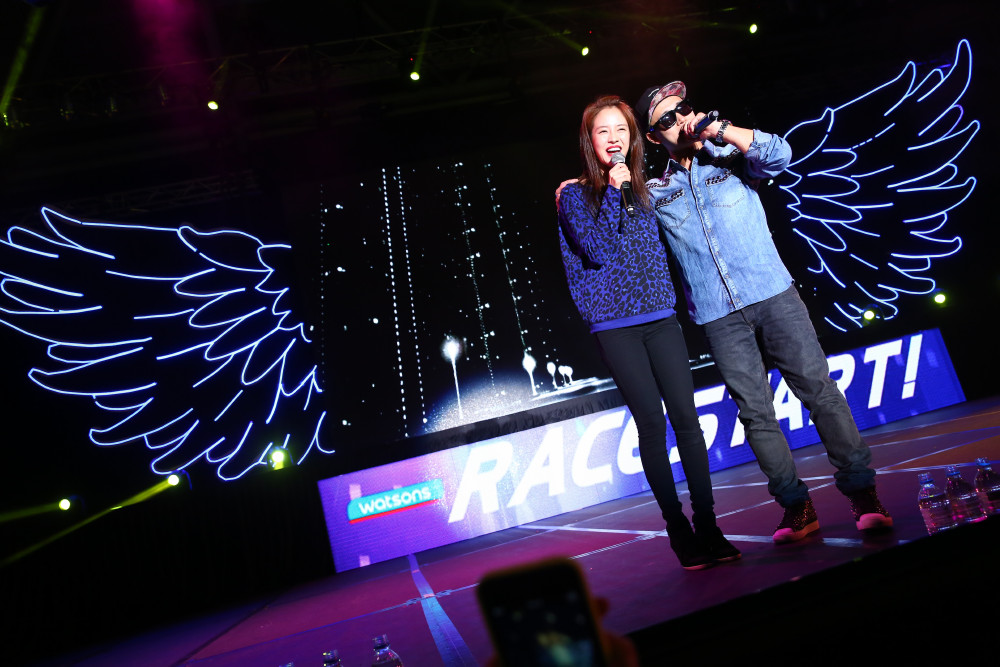 credit: Channel ONE
The atmosphere in the hall was really warm and fuzzy, with everyone on a high- something that I have not experienced in many K Pop events for a long time. A most enjoyable night.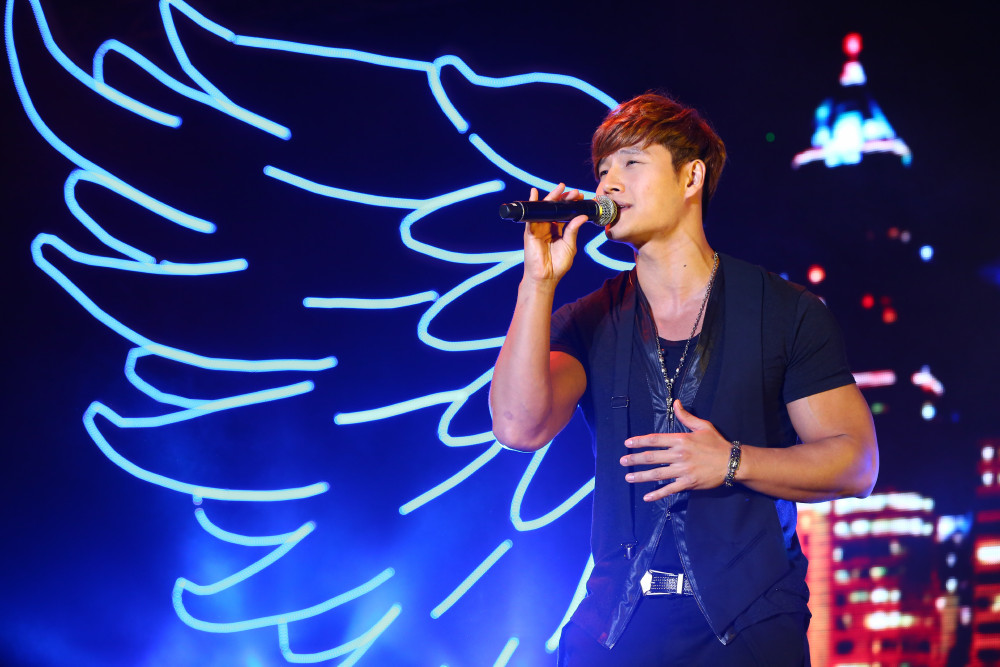 credit: Channel ONE
With much thanks to Channel ONE for the kind invite to the press conference as well as the fan meeting.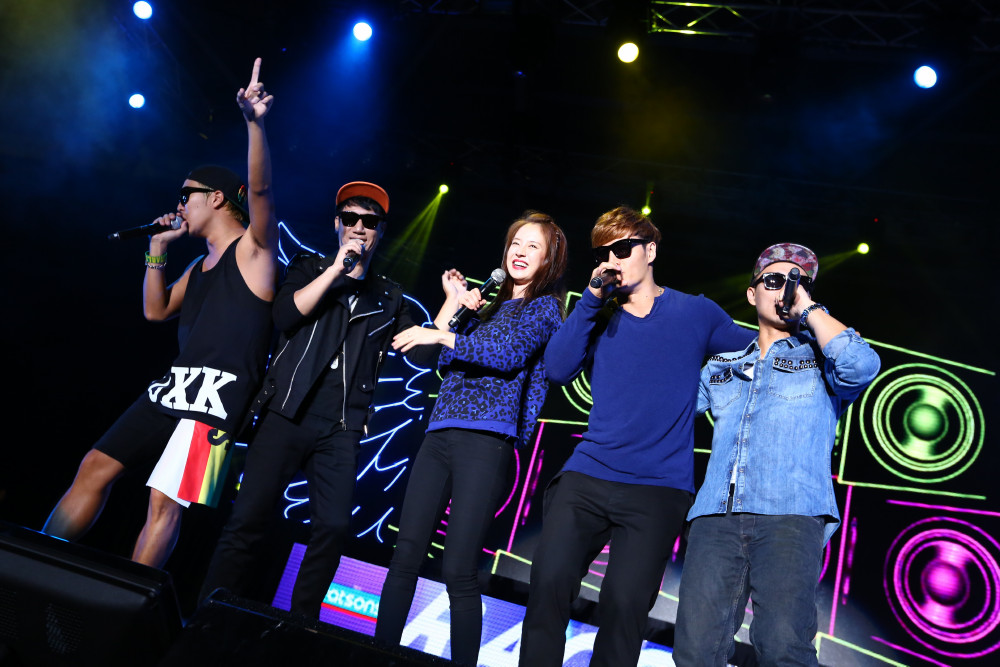 credit: Channel ONE
If you have enjoyed yourself greatly that night or missed their show for some reason, fear not- They have promised to be back again. Hopefully to film episode as well another fan meet. This time with the complete cast.
For additional photos, please refer to Seoul Rhythm's FB link here.
Running Man broadcasts on Channel ONE on
RUNNING MAN
Remember to catch the show every Friday night at 11.45pm on channel ONE:
StarHub TV channels 124, 820, 823 and 876) and
SingTel mio TV channels 513 and 604