A little note*
Much thanks to JNation Entertainment for the kind invitation to Nu'est's L.O.Λ.E. press conference and showcase. Credit and thanks to Rebby for reviewing the press conference and to aprillaxkaren for the photos.
~Tiffany @ Seoul Rhythms~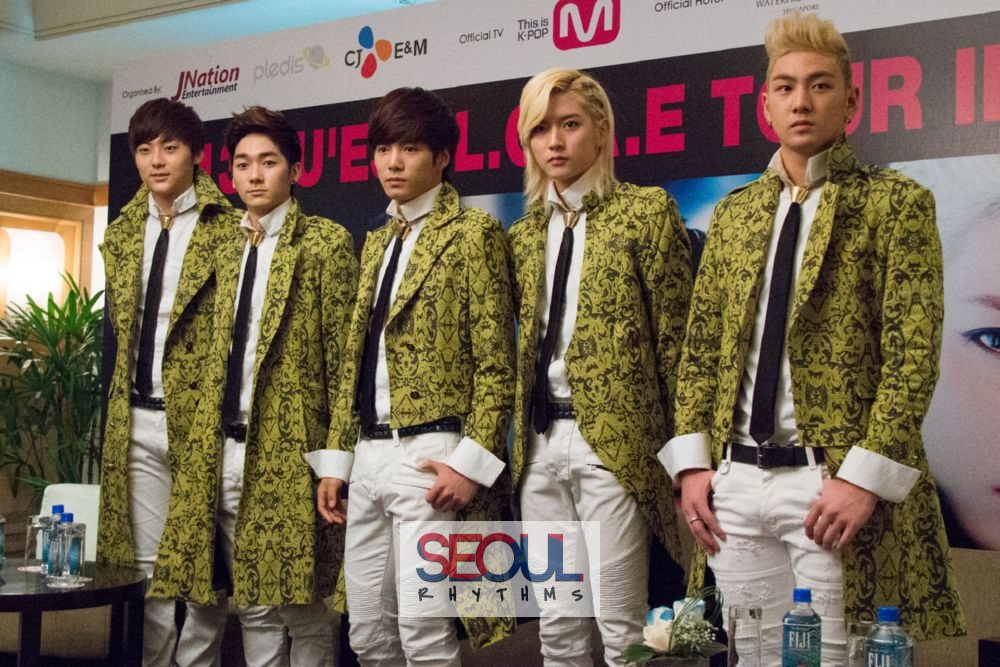 Urban electro band NU'EST returned to Singapore on June 22 for a full fledged showcase. Earlier in the day, NU'EST members JR, Aron, Minhyun, Baekho and Ren met the media at a press conference held at Grand Copthorne Waterfront hotel. The haze that has been troubling Singapore for past two weeks seemed to have cleared up immediately from the time the boys entered the room.
All full of smiles, the boys took time to answer questions fielded solely by the emcee Kenneth Kong from Radio 1003. When asked what was it that they wanted to do or see most in Singapore, Baekho answered that he was looking forward to seeing the Merlion. As the haze condition was pretty bad, the MC then asked if they had any masks with them. Aron shared that they received masks from a caring fan of theirs.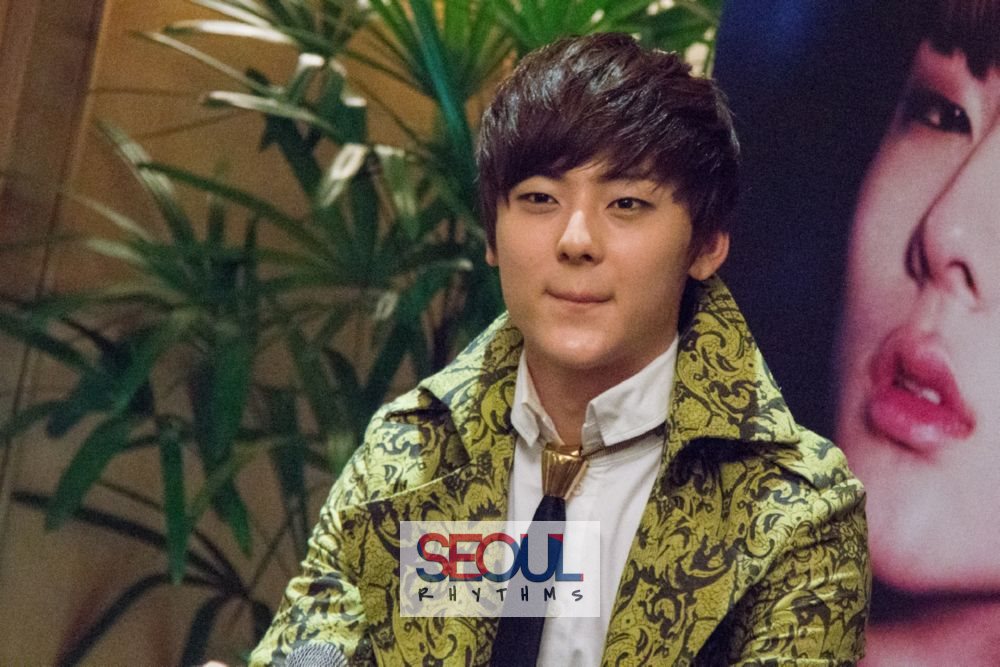 MC: We will be expecting a full fledged showcase, so what can fans expect at the showcase?
Aron: As the fans know, we came out with a third album Hello, they can expect to see a different stages this time, we have been practicing alot so we hope fans will enjoy it.
MC: Will there be any special performance at the showcase this time round?
JR: Yes. We have prepared something special and we will be performing our song Sandy.
Aron: We have this song "Sandy" which is originally in Korean and it's a song made for fans, but we actually made an English version of the song.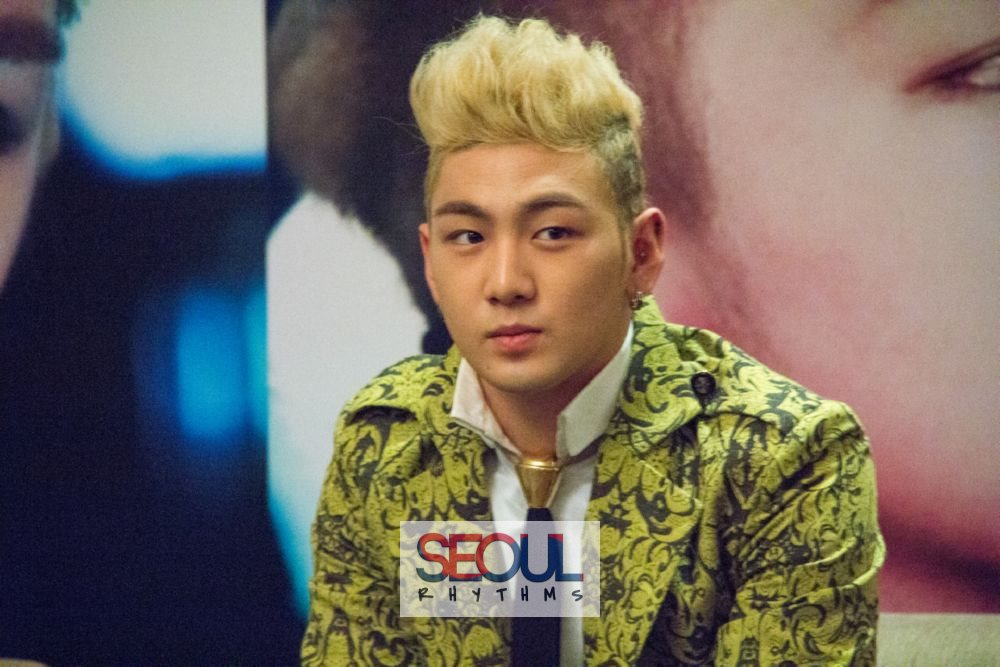 MC: Each of you have different music influences, or you get your inspiration from different artistes or groups, can you share with us who has the most influence on you?
Minhyun: I really admire Big Bang because of their powerful performances on stage.
Aron: I'm actually a big fan of Anthony Hamilton, he's an R&B singer and definitely I'll say Chris Brown because he's such a great singer.
JR: I like Eminem a lot.
Ren: I like Lady Gaga!
Baekho: I also admire Big Bang very much.
MC: There are so many artistes in Korea coming out in Korea and ther are many seniors, are there any artistes that you want to collaborate with?
JR: We would like to collaborate with our labelmates Son Dambi and After School.
MC: What if one day you guys can actually work with Lady Gaga?
Ren: I would like to collaborate with her by playing the piano.
MC: Why piano?
Ren: I think Lady Gaga plays the piano really well.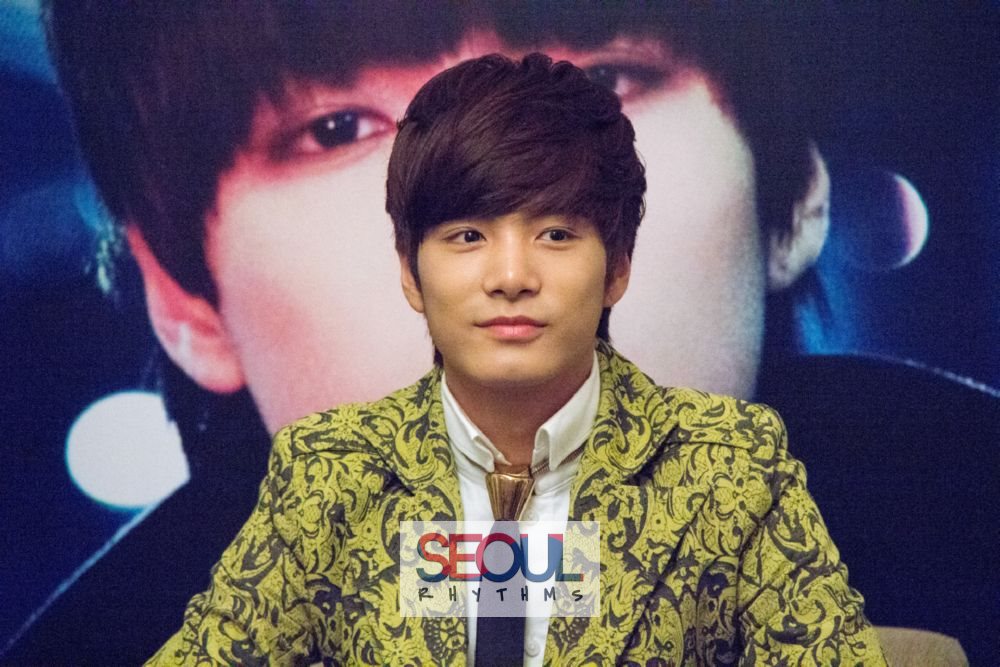 MC: From "Face" to "Action" and now "Hello", it's like a mood change. "Hello" is a ballad, why was there a change and through the transitions, which member actually is suited for "Hello"?
JR: Minhyun suits "Hello" very well.
Aron: We wanted to show our fans a more dynamic side, we are not just one kind of style and we want to show that we can do different styles, that is why we are changing ourselves a little bit.
MC: Which member receives the most phone calls?
Aron: I think it's all the same because we usually get phone calls from parents or family.
MC: If NU'EST have a chance to debute as actors, how will each member portray themselves as an actor?
Minhyun: Together with the mebers, I would like to be involved in an idol movie like 'Boys Over Flowers'.
Aron: I've really thought about it a lot and I would definitely like to be in a romantic comedy. I think it'll be really fun so I'll try one of the roles.
JR: For me, I'm interested to try action movies!
Ren: Just like Song Joongki, I would like to act through my charming gaze.
Baekho: I would like to try to be an action star as well.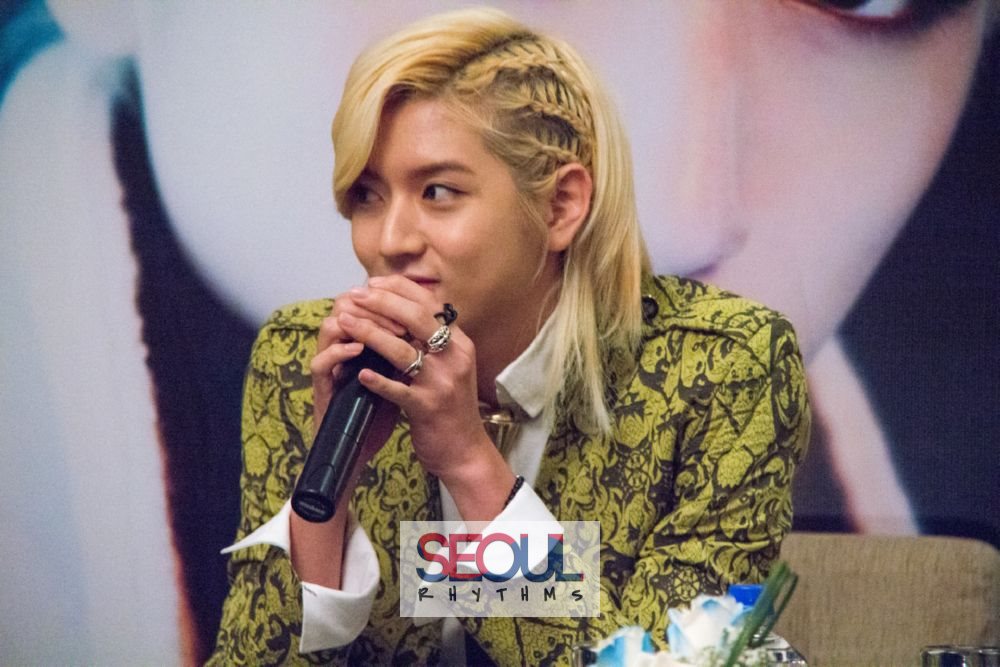 MC: Baekho actually looks like a fighter. Can we expect to see a 6-pack abs at the showcase?
Baekho: I have gained a little weight… (laughs)
MC: You guys have been touring and held a lot of fan meets, if you guys can plan a special activity with the fans, what kind of activities will you like to engage with the fans?
Aron: We would definitely like to do activities that involve the fans, not just a showcase, we can play games together and get more involved with fans.
MC: Since debut, which member has changed the most?
Baekho: Aron changed the most because before he was a little chubby but he's really handsome now.
Aron: When I debut I did gain a little weight but I lost it all now, thanks Baekho!
MC: How do you see yourself in the next 5 years?
Baekho: I would like to see NU'EST as a well respected group and well known internationally.
MC: Were there any memorable events during your last visit to Singapore?
Baekho: Singapore is a very clean and nice city to live, we haven't really seen much. It's a pity that we haven't gone out.
Aron: For me, personally I'll say chilli crabs! They are really good! We had chilli crab for dinner last night.
MC: Is there any member who doesn't know how to tie a tie.
Aron: Except for me, all four of them doesn't know how to do it.
MC: Everyone is wearing a tie now, is it fake?
Aron: There's a little hook at the back (laughs).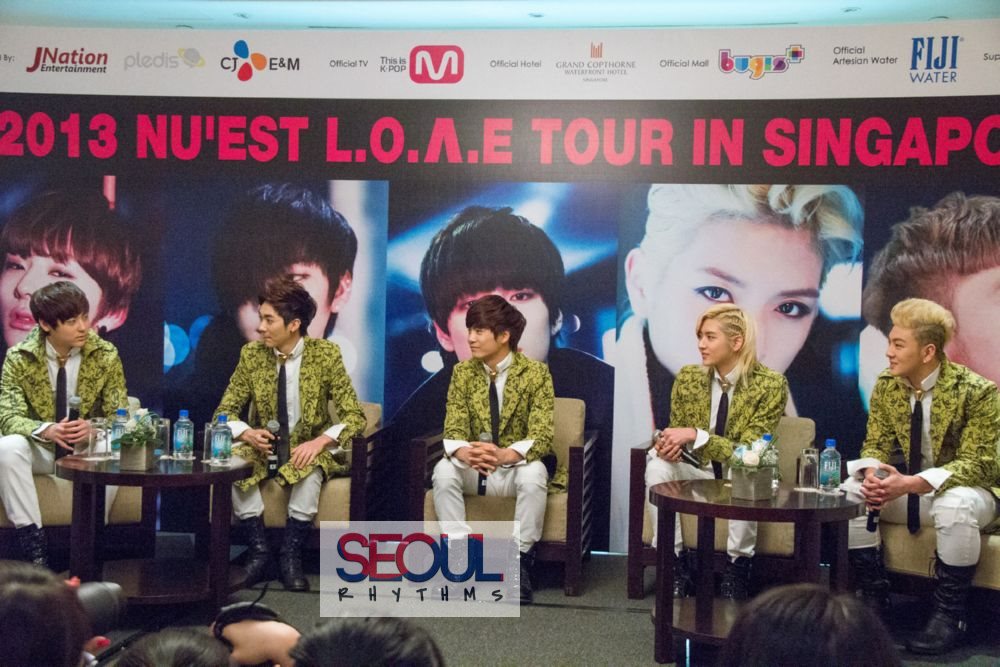 MC: Does Aron actually take care of how they look with a tie?
Aron: With these ties we can just hook it at the back, but we haven't been in a situation that we really need to wear a tie, I don't really take care of any of them.
MC: Guys nowadays do not really know how to tie a tie, expecting their wives or girlfriends to tie for them. Is this the case for the other four members?
Baekho: I don't really like to wear a tie so I think it's fine.
The press conference ended with a photo call.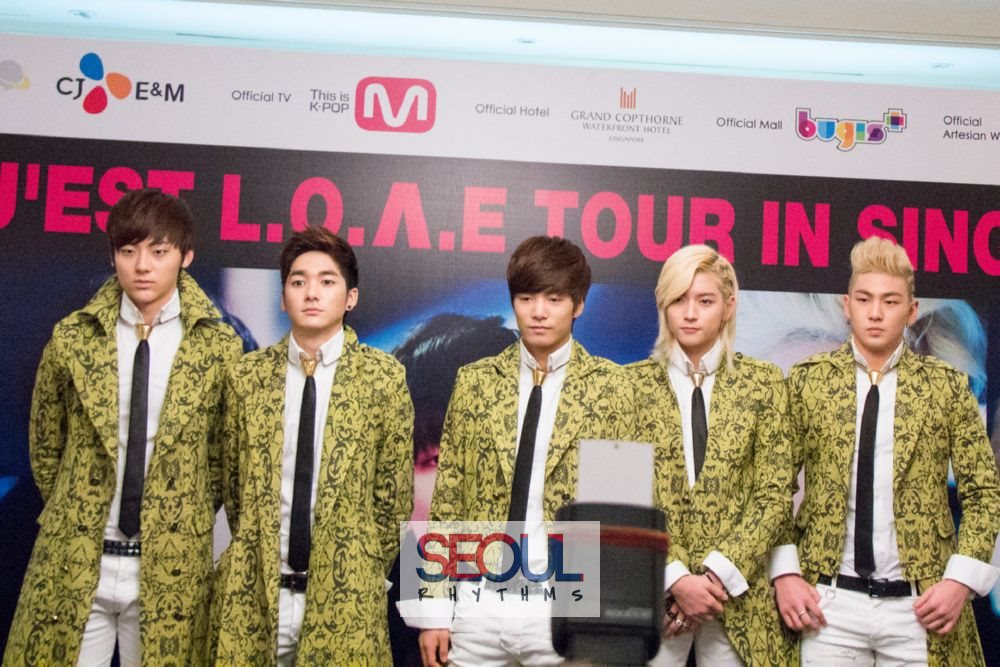 For additional photos from the press conference and showcase, please click here and here.