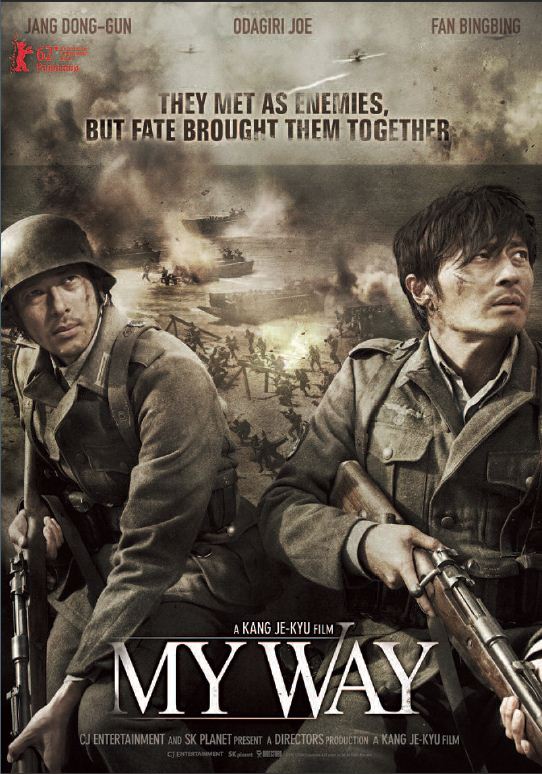 Inspired by a photo found in the the United States National Archives, which showed an Asian in German war uniform amongst the POW captured during the Normandy, France battle.
The story tells how a Korean (Jang Dong Gun as Kim Jun Shik) and a Japanese (Odagiri Joe as Hasegawa Tatsuo), who both aspired to be the top marathoners met as rivals, then enemies and then finally as friends. Spanning the battle fields of China, the Soviet Union, and Germany, finally Normandy, France, the movie is about the humanity that transcends border and nationality.
The veteran Jang Dong Gun stars in this epic war movie together with an international cast- Japanese Odagiri Joe and China's Fan Bing Bing. Directed by Kang Je Kyu of the famous movie, Taegukgi (which also starred Jang Dong Gun and Won Bin), this movie will delight those into epic war movies.
'My Way' was invited to the Berlin Film Festival 2012.
Win a pair of tickets to watch this epic exciting movie by the international cast and catch Jang Dong gun in action. Just answer the following question. Please note that the movie is rated as NC16.
Q- What did Kim Jun Shik (Jang Dong Gun) aspired to become?
Please send in your answers with the subject heading 'My Way' contest and your details to contest@seoulrhythms.com. Please include the following details
1) Your name as in your i/c
2) Your contact number
Things to note:
– Contest open to residents of Singapore only
– Contest ends at 1pm, 18th June 2012
– Winner will be picked randomly and contacted by Scorpio East.
Movie tickets are courtesy of Scorpio East. 'My Way'  is now showing at Cathay and GV cinemas. Do check out the screening times.
It's great to see Jang Dong Gun back in action again. I'm enjoying his latest drama, 'A Gentleman's Dignity' now currently on SBS.