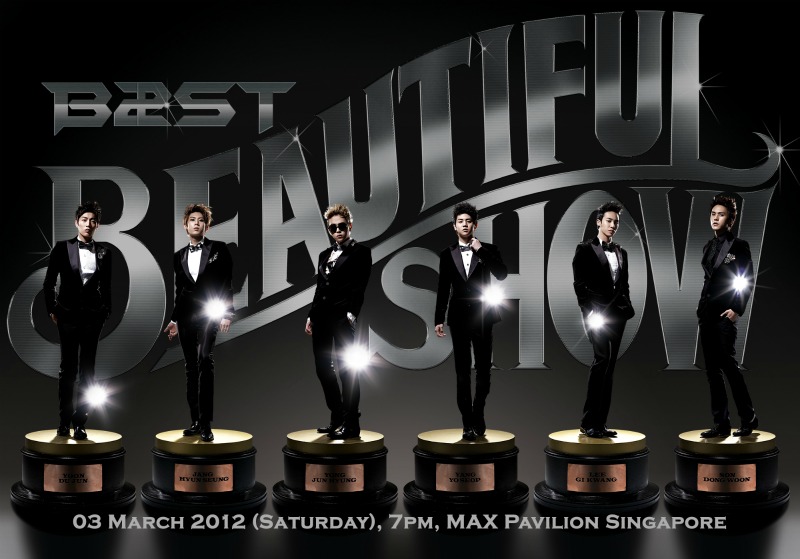 I'm back after a very much needed holiday. Did you all missed me? Hehe!
So what's the first thing I'm going to wrtite about? Beast concert in Singapore of course. Just because I'm really pleased that Beast is going to have a full-fledged concert in Singapore finally. But…but…I really do not like Max Pavillion. Sigh.. That's just my personal opinion. I would advise all die-hard fans to just get the mosh-pit tickets if you don't mind standing the 2-3 hours. Because there is a high chance that you would still be standing up throughout the show, EVEN though you have a seat as the seats are not elevated.
Unless of course,
1) the nice people over at Bling Entertainment decided to put up elevated seats OR
2) the fans will behave and NOT stand up (which is like asking for a miracle).
Still, the sound system was pretty good during the FT Island show, so at least you know you will be able to hear them clearly.
Beast- Beautiful Show 2012
Date: 3rd March 2012
Time: 7pm
Venue: Max Pavillion
Sites to take note: Bling Entertainment FB (they just changed to a new page), Bling Entertainment Twitter, Creators Production, Sistic.
Ticket details:
Cat 1 (seated)- $228
Cat 4 – Mosh Pit Pen A (free standing)- $228
Cat 5 – Mos Pit Pen B (free standing)- $228
Cat 2 (seated)- $178
Cat 3 (seated)- $128
Here's the seating plan.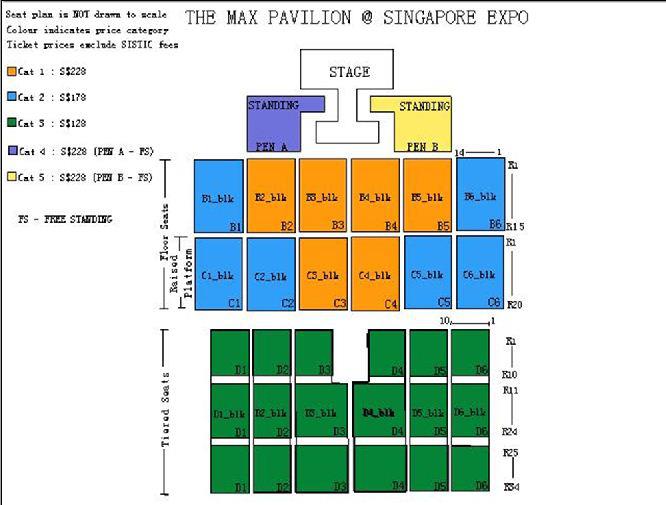 Ticket sales will commence on 4th February 2012, 10am, on Sistic across all channels (yes- internet, phone, counter etc)
There will also be official merchandise on sale though I'm not sure if they will do a pre-order. Watch out for updates from Bling Entertainment via their FB and twitter.
I've been watching this group ever since I saw and covered their first showcase in 2010. I was truely impressed by this rookie group back then..not just by their songs, but also by their individuality which shone through during the press conference as well as the fan sign. Since then, the group has gone from strength to strength, winning awards in MAMA 2011, 3rd Melon Awards and 17th Golden Disk Awards. And of course, the Troublemaker was absolutely fantastic. It would be a fantastic if the Troublemaker team can make it to the concert as special guests. Can dream a little right?
It's a few more hours before the ticket sales starts but watching these teasers get me excited already..
But here's a personal favourite of mine. Kikwang winking at me. Wahaha!