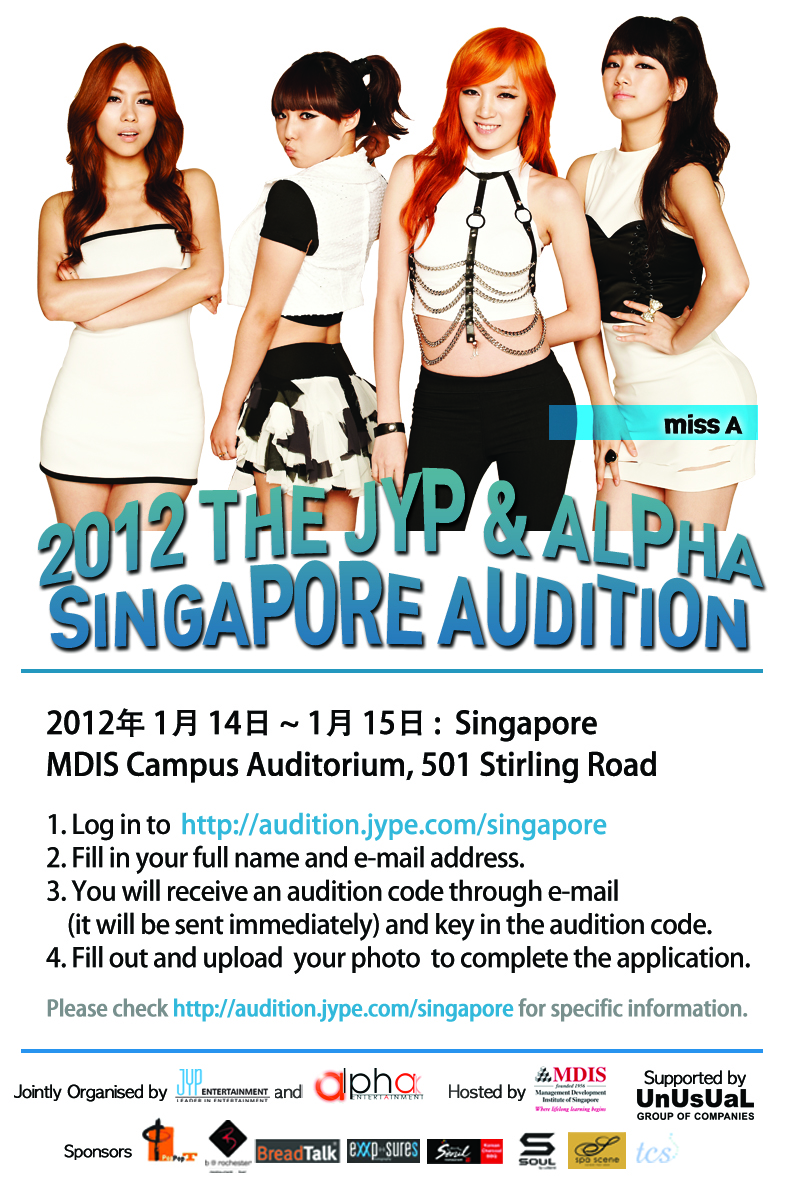 The JYP/Alpha 2012 Audition starts in about sixhours' time and I can't believe that people are still basic questions about the audition. So if you are still totally blur, here are the things you should note about the JYP/Alpha 2012 Audition.
Date: 14 & 15 January 2012
Venue: MDIS Campus Auditorium
Time: 8.30am – 5pm
A) If you are planning to register online (which you are really encouraged to), then go to their website here. Online registeration closes on 14 January, 9am.
For instructions on how to apply, click on my previous post.
B) If you intend to just walk in, be at the venue at 8.30am in the morning. However, there is no guarantee that you will be able to audition as priority will be given to those who have registered.
– What happens after you have successfully registered?
JYP will send you the following email: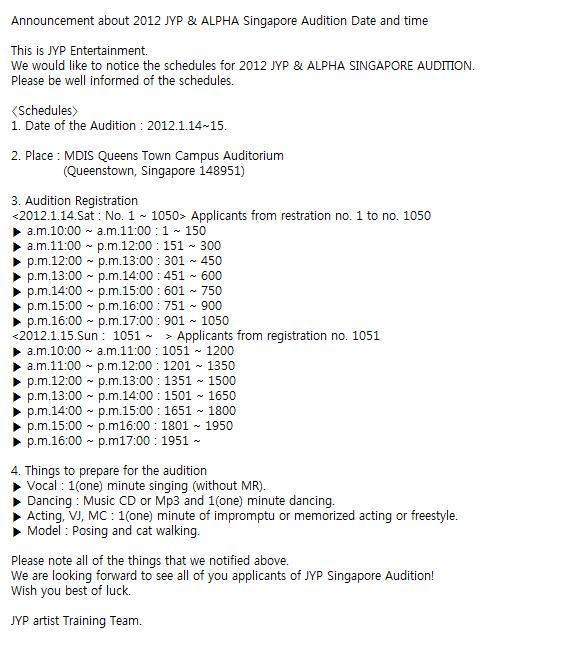 Look at your registration number on your completed application form. The number is the one circled in red. Check which day you are required to be there- Saturday or Sunday.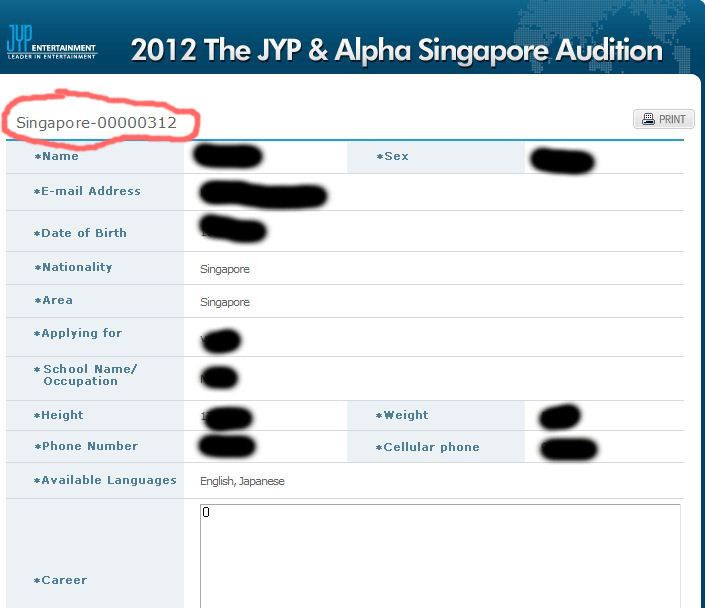 -FAQ
1) What do I have to bring on audition day?
A- 2 copies of your completed application form with a passport photo of yourself attached to the forms. Your cd with the music for your dance.
2) Do I need parental consent?
A- Yes, if you are below 14 years old.
3) How and where do I put down my parents' consent?
A-  On the completed audition form, please ask your parent to:
sign with FULL Name, NRIC or Passport No, HP No and the sentence "I Give Consent" below the signature.
4) Can I just print out the photos instead of having a proper photo?
A- Yes, you can. However, make sure that your face is fully shown. Please don't use an artistic photo with half your face covered. The panel needs to remember who you are.
5) Can I put on make up/ wear shorts/ slippers?
A- No make up is allowed. If you have long hair, please ensure they are nearly tied-up. Please respect the casting directors and yourself and dress appropriately. This could be your career. You would not attend a job interview in shorts and slippers, so don't do so for the audition. You are not going for a beach party but trying to get a spot to be the next star.
6) Can I sing with music/ lyrics etc?
A- No, it's stated very clearly that you have to sing without music. If you have to sing with a sheet of lyrics infront of you, it shows a lack of confidence. Sing a song that you are most comfortable and confident of.
7) How many songs/ dances must I prepare for?
A- If casting directors like you, you may be asked to perform another item. So just be prepared.
8 ) I am not free on Sunday (or Saturday), my scheduled day, can I go down on Saturday (or Sunday) instead?
A- No, you are not allowed to change your scheduled day. If you attempt to do so (or try to do another registration on the spot), you will be disqualified.
9) Can I apply for more than one category?
A- No, you are only allowed one chance in this audition and so can only choose one category.
10) I applied more than once, which number should I take?
A- Take the latest one.
11) I made some mistakes on my form, what should I do?
A- Make the necessary changes on the audition day.
12) Is auditioning on a first-come-first-served basis?
A- Yes, therefore, everyone has to report at 8.30am and you will be given a tag. This will be your audition number. So even if your letter says your audition time is 12 noon, if you are the first in line, then you will audition first. The timing indicated in the email is just an estimate on how many people they will be able to see within an alloted time.
13) Can I leave the venue?
Once your registration is confirmed and you are led to a holding area, you will not to be allowed to leave till after your audition.
14) Can my friends/ parents/ girlfriend/ boyfriend be there with me?
A- They can be there with you whilst you are queuing up but not once you are inside the holding area.
15) How many will be selected?
A- There is no magic number. The panel will select as many or as few as they think suitable. This could be none or it could be two or three or six (though this is probably unlikely).
What can I expect at the audition?
Unfortunately, I was not there at the previous JYP/Alpha 2010 Audition as I was away. bb and Kandance attended on my behalf  and you can read the posts here. I was at the recent Alpha Audition held in December 2011 and I believe the set-up would be roughly the same.
All of you will be waiting in the auditorium for your turn.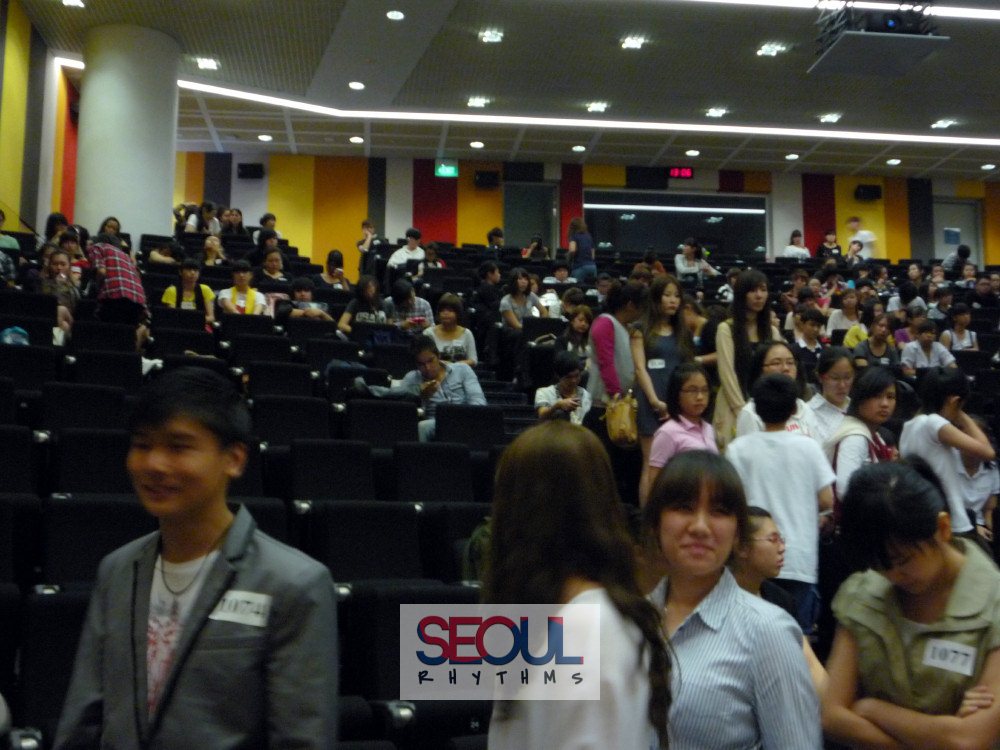 They will call your number (your tag number given out tomorrow) and you will enter the audition room in batches. That is to say, you will not be performing alone. There will be other participants (those in your batch) with you.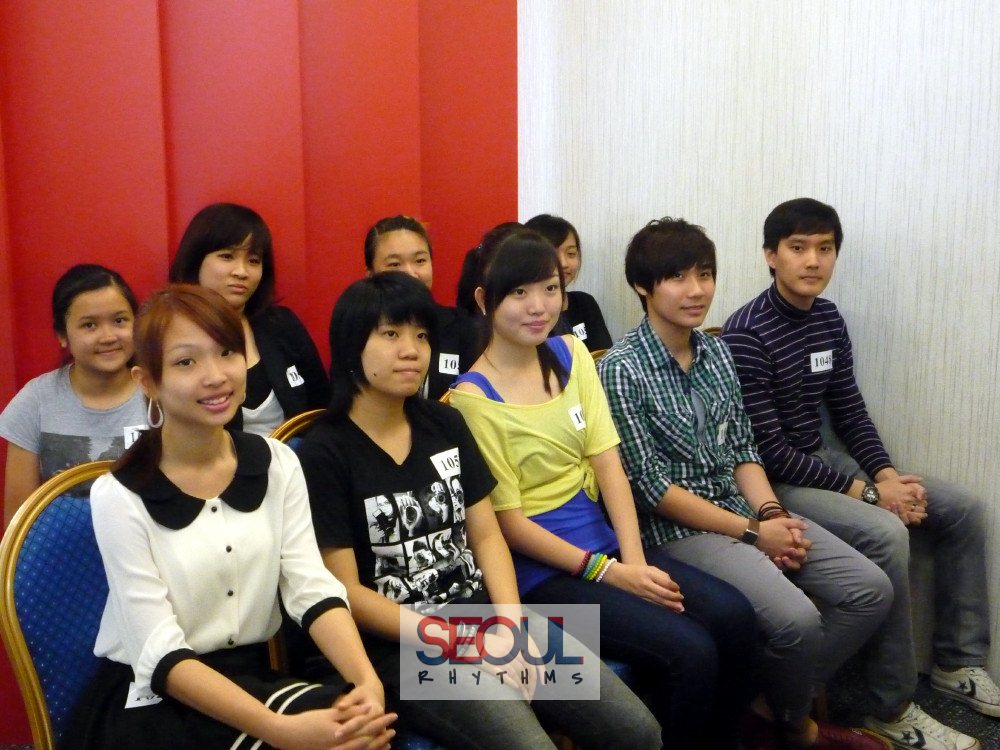 There will be a panel of casting directors. This panel consists of both JYP and Alpha casting directors and could number anything from 2 to 6. They are all highly experienced. Among them, they have trained and managed artistes such as Rain, Miss A, Wondergirls, DBSK, SNSD, SHINee, Super Junior, Super Junior M and F(x).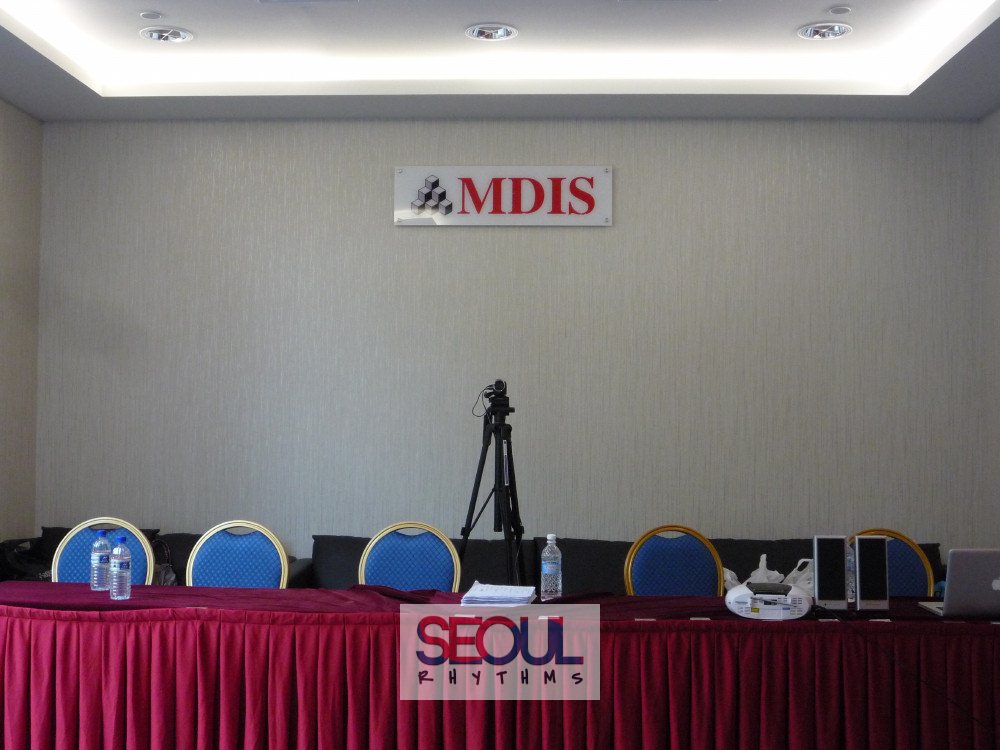 You will be given up to a minute to perform though in most cases, you will probably be stopped before the one minute is up. Your performance will be recorded.
See the white masking tape in the photo below? Your batch will most likely be asked to stand behind the line and asked to step forward one at a time to perform. Of course, it may not be the same room and there may not be a white masking tape. It could just be an imaginery line.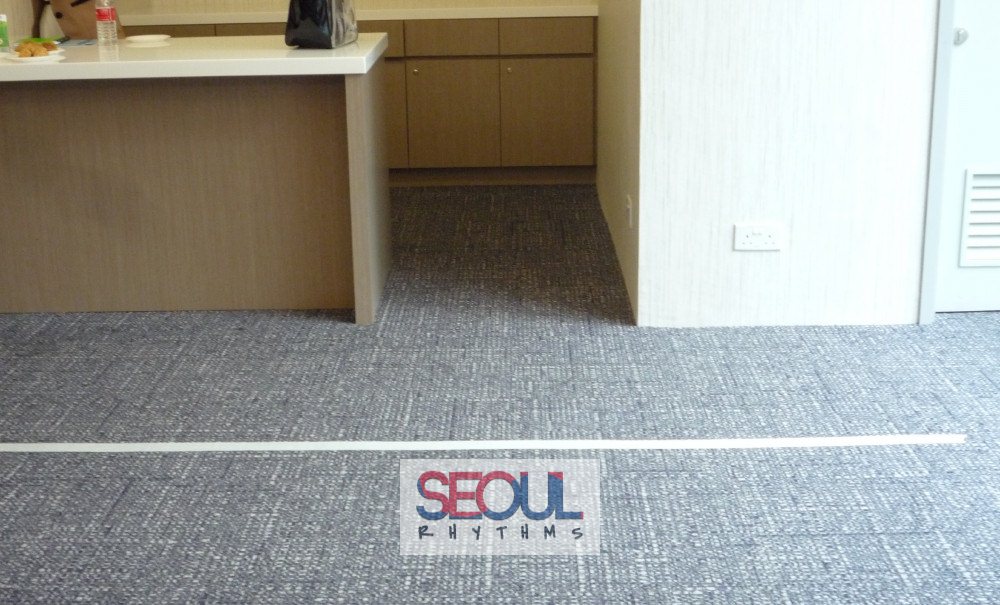 When your batch has finished performing, you will be allowed to leave the audition room and you may go home.
What happens after the audition?
Alpha will announce the approximate date that the results may be released. This is tentative as Mr Park Jin Young himself will want a final look. The results for the previous audition was delayed due to his filming commitments in 'Dream High'. He will again reprised his role in 'Dream High 2', which will air in Korea sometime this month. So be patient and wait.
DO NOT call JYP Korea hounding them for answers as some did during the last audition. You will only irritate them and show your unprofessionalism.
You could be selected by either JYP or Alpha Entertainment as it is a joint audition. If selected, you will be trained by the professionals in Korea and groomed to be the next K Pop group (yes, group…not solo). Of course, a contract will have to be signed and training is expected to start almost immediately.
I think I have answered almost all questions. There may be some changes of course, but they shouldn't be of your concern. Your only role is to be well prepared and turn up for the audition at 8.30am on Saturday or Sunday.
As an added incentive, the first 700 Alpha members and first 200 non-Alpha members to turn up will receive breakfast meal from BreadTalk, as well as dining vouchers Seoul BBQ Restaurant @ CHIJMES and B@Rochester, all sponsors of this audition.
Ok.. good luck to everyone. And go to sleep now.
Hwaiting!