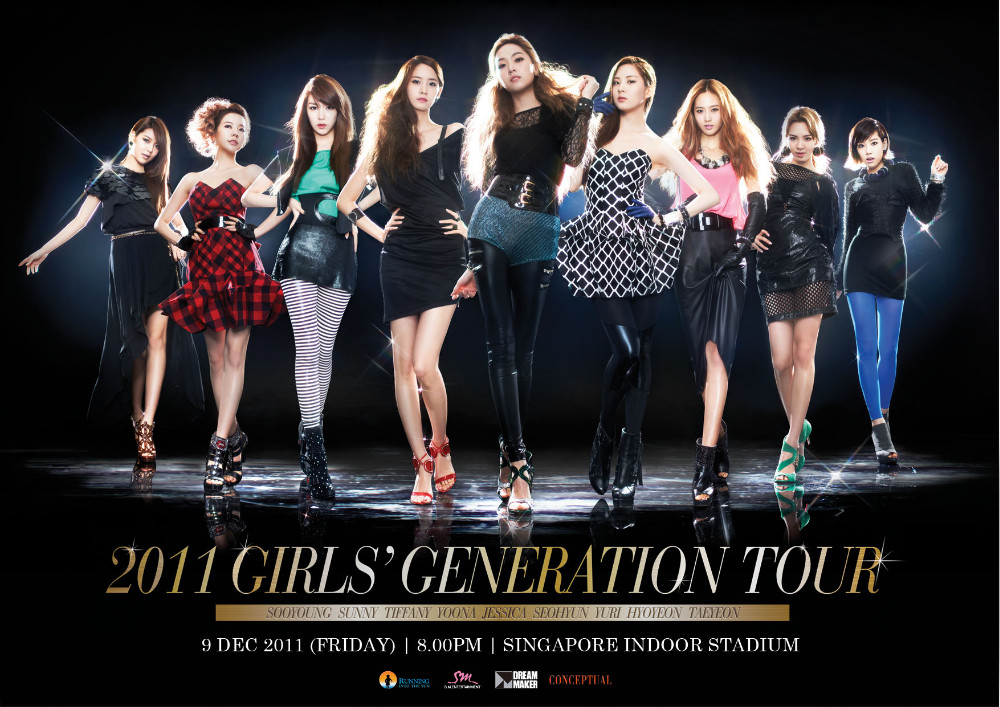 2011 Girls Generation'Tour- Singapore
Date: 9th December 2011
Time: 8pm
Venue: Singapore Indoor Stadium
Sites to take note: Running Into The Sun, F&N, Sistic
Ticket details:
Mosh pits- $218
Terrace- $218
Balcony- $168
Partially retricted views- $168
Just like 2PM's Put Your Hands Up Asia Tour 11- Singapore, the stage is also T-Shape like, so there will be 3 mosh pits. More chances for fans to be up close and personal to the girls. Here's the seating plan.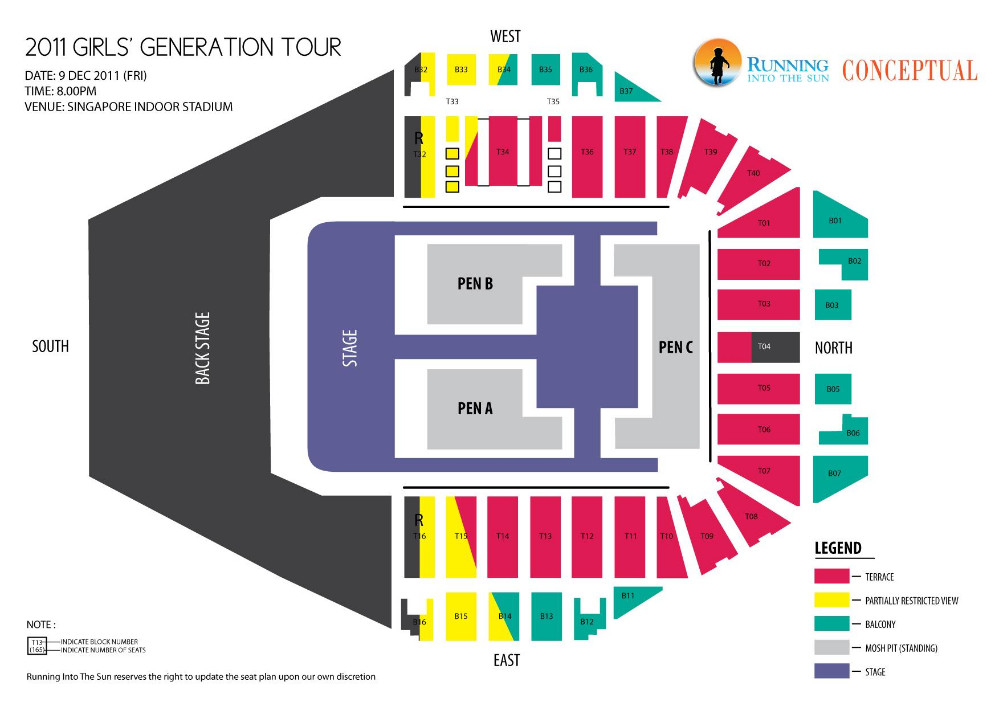 Priority booking exclusively for Samsung and OCBC card holders from 29th to 31st October 2011. Public sales starts on 1st November 2011.
T&C
– 1st 250 OCBC debit/ credit card holders will get 5% discount. Please note that the card must be issued in Singapore.
– 1st 250 Samsung mobile/ tablet customers will get 5% discount. Please note that you will need to book it physically at Sistic counters as you have to flash your Samsung mobile phones/ tablets.
Sales starts at 10am across all channels (internet, phone booking and counter sites) and each person is allowed to buy only 6 tickets per transaction.
Public sales starts on 1st November, 12 midnight via internet and 10am via counter sales. Again, only 6 tickets per transaction each.
Overseas fans can get your tickets via Sisic website on 1st November 2011, or you can buy the tickets via Sistic overseas agents from 1st november onwards. Please check Sistic website for list of overseas agents in Malaysia & Indonesia.
You will not be allowed to choose your seats, only the block or the mosh pit pens. Sistic will choose the best seats possible through their computer system. Obviously, it's standing room only at the 3 mosh pits.
For more details, please refer to RITS FB here. I believe the information is very clearly stated, so I would advise all to look through the FAQs carefully before asking more questions.
F&N, who is one of the sponsor, has promised a special F&N Fan Service to those buying the mosh pit tickets. I don't know what it is either. But do check out their FB, F&N for more details. Hmm… wouldn't it be great if lucky winners are picked to present F&N drinks to the girls? Hehehe! just dreaming. Here's their twitter address- F&N Fun Flavours. Remember to check out their sites.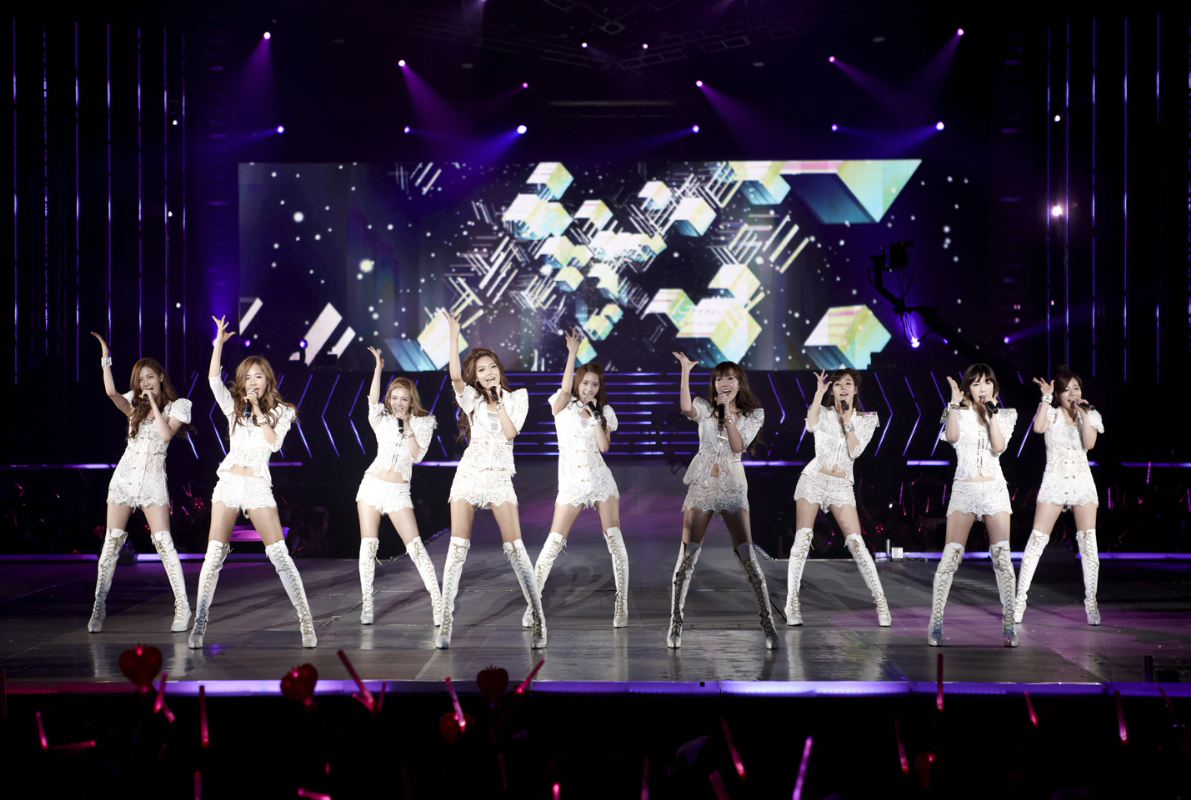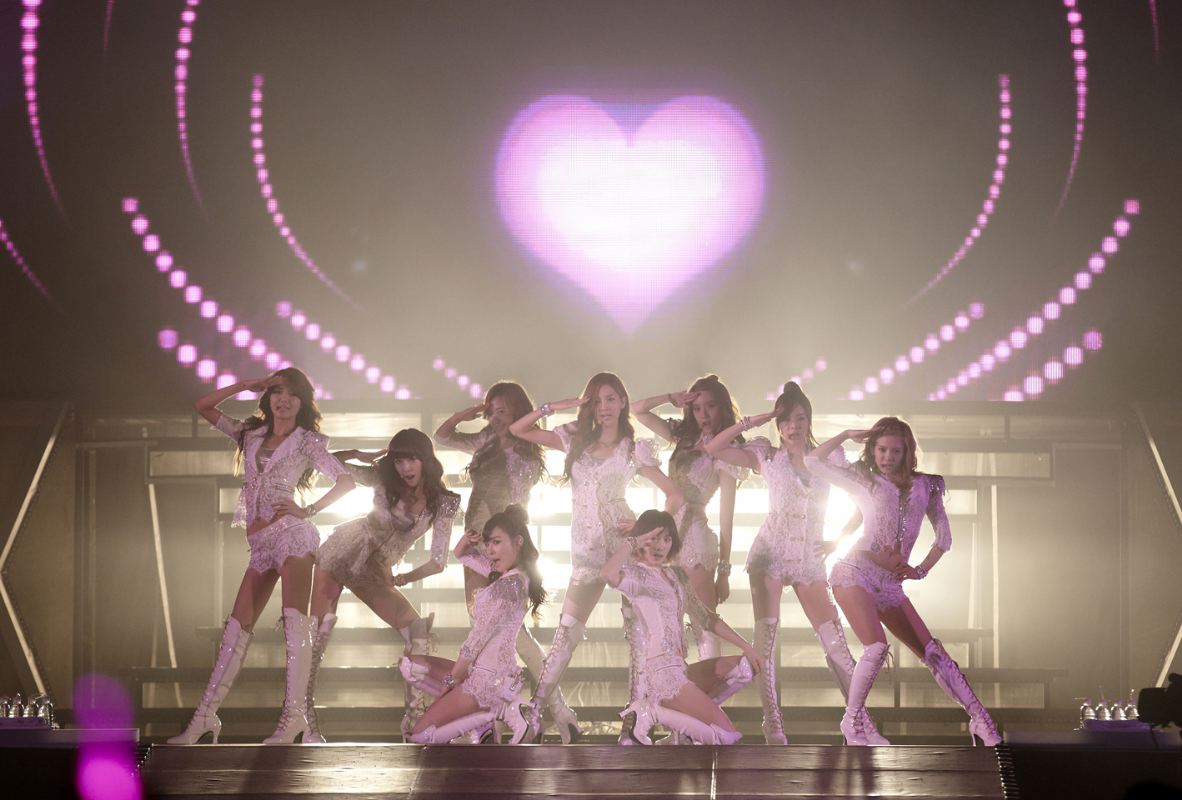 Above photos were from the girls concert in Korea in July 2011, courtesy of Running Into the Sun.
Girls' Generation was first here in Singapore last year for the K Pop Nite 2010 and of course, they drew a huge crowd and lots of love from everyone (especially the fan boys). Unfortunately, I was away, but 2 very nice girls covered the event for me- bb (who writes amazingly well) and Kandace who takes amazing photos. Take a look at the posts here, here, here and here. For the rest of the photos, please check out the album on FB here.
Since then, they've been busy mostly in Japan promoting their albums and themselves. They've finally released their third Korean album- The Boys on the 19th October worldwide, which of course has been a runaway success. Not only that, they've released the same album in US as well. The girls sure have been busy. They performed The Boys on Music Bank today. Take a look:
And of course the MV for the English version:
Will the girls sing The Boys in English? Would you want them to? ^^