This new category has been started on my site in respond to the increasing performances and events hapening in Korea and around the world. It will lists events outside Singapore. New events will be posted under respective months. For those of you who have information about new and upcomning events, do drop me an email: tiffany@seoulrhythms.com. It would be great if you could provide me with as much information as possible like links to website, event posters etc. For events in Singapore, it will be posted as per usual on my site. You can also take a look at the calendar page for events in Singapore and beyond. Hope this category will be useful to all my readers.
Asia Song Festival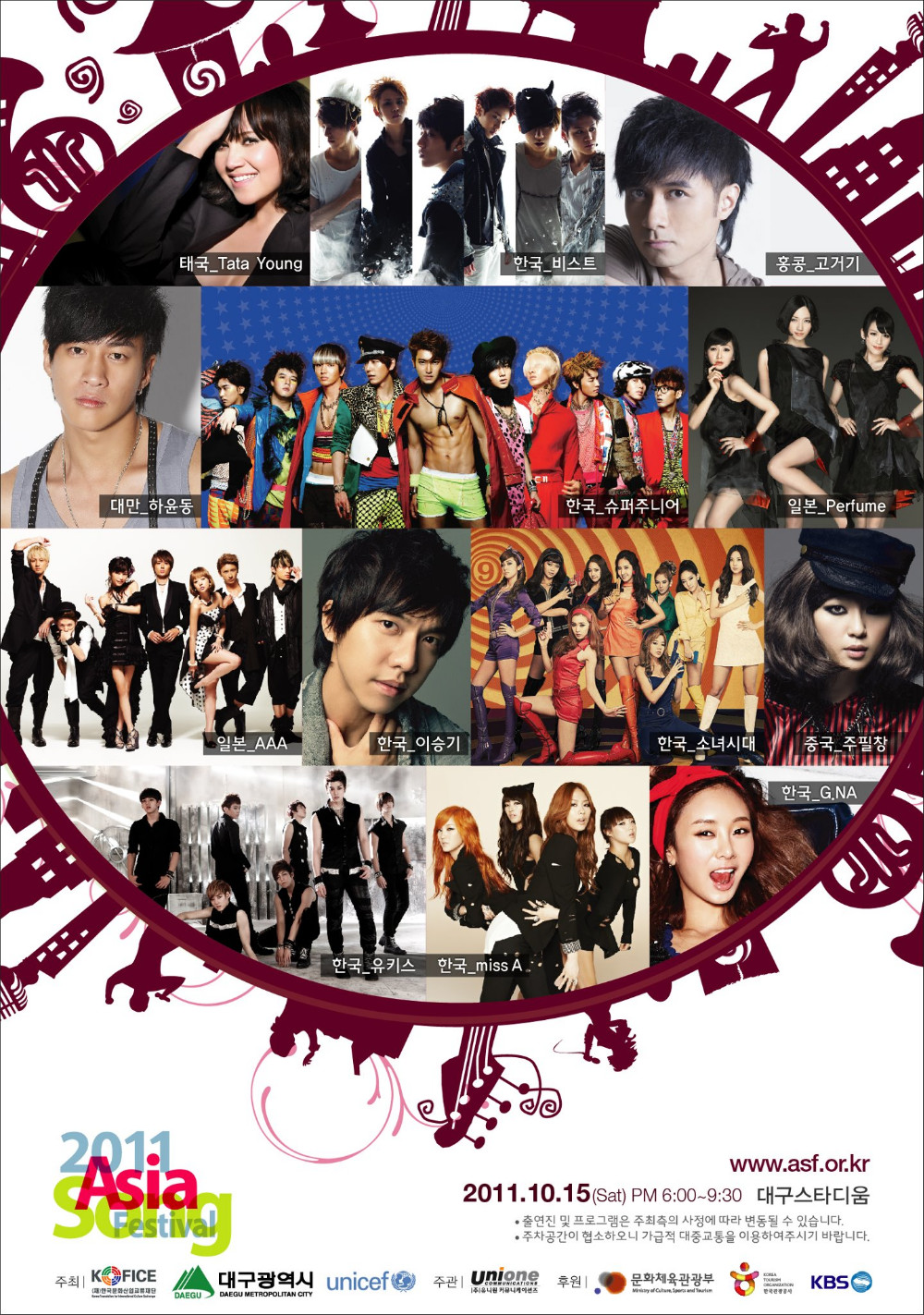 Date: 15 October 2011
Venue: Daegu Stadium
Ticket prices: FREE (please check out the coupon tab for further instructions)
Website: Asia is One- Asia Song Festival 2011, KTO's website
This is a major cultural event spearheaded by the Korea Foundation for International Cutural Exchange. Artistes from 10 different Asian countries will participate in this year's event which will be held at Daegu Stadium as part of the Visit Daegu Year.
Artistes participating:
Korea: Super Junior, Girls Generation, Lee Seung Gi, Beast, Miss A, U-Kiss, G.NA, X-5, RaNia, ChoColat, April Kiss, HITT, leeSA
Japan: Perfume, AAA
Taiwan: Peter Ho
Hong Kong: Leo Ku
China: BiBi Chou
Thailand: Tata Young
The 4th round of application for concert coupon is on 12th October, 1pm (Korean time). The coupon must be exchanged for the actual ticket on the concert day. Please check the Asia Song Festival 2011 website for more infor.