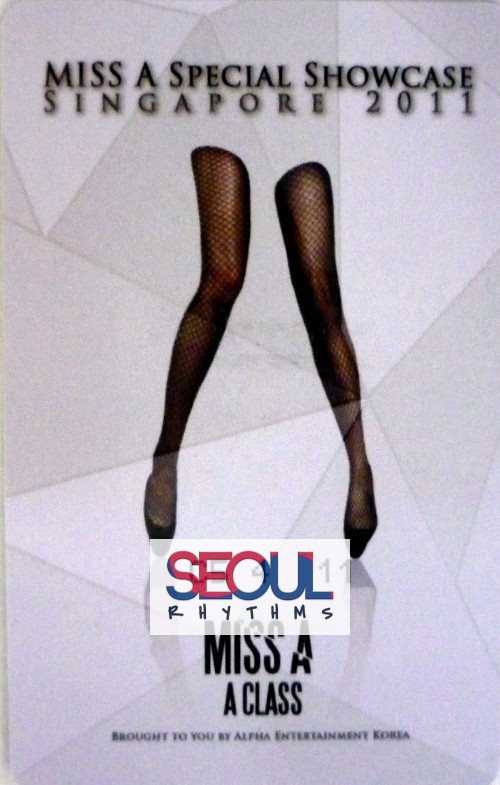 For those who bought the Category A tickets from Alpha Entertainment…here's the good news.
Are you ready? Ahem.. Ta-ta!
Miss A will hold an autograph session especially for the first 200 Category A ticket holders on the 29th September 2011.
Here are the details & T&C
Date: 29th September 2011
Time: 6.30pm
Venue: City Square Mall
Those who bought the Category A tickets, you are entitled to one cd. This cd can be collected @ City Square Mall on 29th September.
For the first 200 ticket holders only. Miss A will only sign on the CD.

So don't bring your poster, file, socks etc ok. This fan sign is meant only for paid tickets. Sponsor ticket holders, contest winners and others will not be eligible. (Yes, the tickets are marked)
Alpha Entertainment will set up a booth earlier @ City Sqaure Mall on the 29th September to allow cd & ticket collection.
There are limited seats left. As of now, according to the update on their facebook:
Cat A- 16 seats
Cat B- 68 seats
Cat C- 70 seats
Alpha Entertainment will be at Scape on Friday (23 Sep 11) & Saturday (24 Sep 11) from 5pm to 9pm. You can buy your tickets and sign up for your membership there. There will be no sales from Alpha Entertainment after the 24th Sep coz they have to prepare for the showcase.
So make your way down to Scape tomorrow.
See my earlier post on the showcase here.
Who's excited to see the girls?