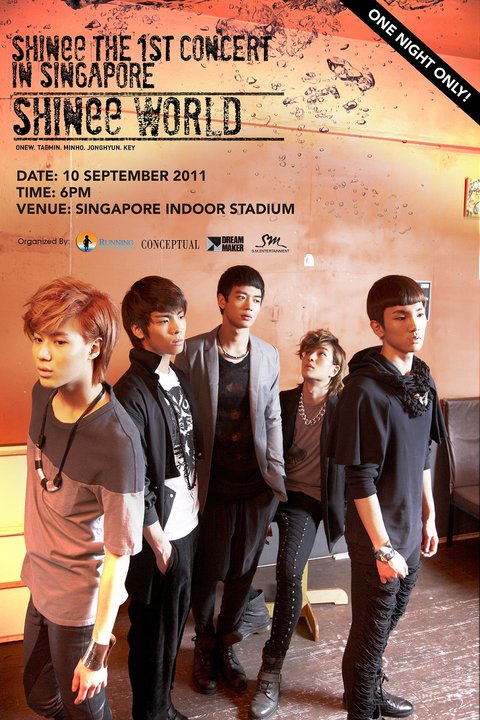 The secret is finally out. After teasing everyone for the pst one week, Running Into The Sun has finally revealed their next full scale K Pop concert- SHINee World First concert in Singapore. Having kicked off their concert tour in Japan last year, Singapore will be the fourth stop after Japan, Korea and Taiwan.
The boys will be here for one night only, with 6,000 tickets for sale. Will it be like Super Junior with an additional concert being added later? I guess it will all depend on the sales and availability of the boys. So here are the information as of now.
Date: 10th September 2011
Time: 6pm
Venue: Singapore Indoor Stadium
Ticket prices: $138 (aprtially restricted), $168, $218
Organisers: Running Into the Sun, Conceptual, Dream Maker, SM Entertainment
The concert's production cost is said to be about the same as the recent Super Junior's Super Show 3 concert in Singapore. If that is so, then fans are in for a real feast. According to media articles, the concert will boast of grand stage effects, pyrotechnics displays and huge LED display screens.
Ticket information should be out by the end of July. Check out the following sites for updates.
Running Into the Sun's FB, Running Into the Sun's Twitter
Fly Entertainment's FB, Fly Entertainment's Twitter
Irene Ang's FB, Irene Ang's Twitter
Running into the Sun is a subsidiary of Fly Entertainment, started by Irene Ang, popularly known as Rosie Phua of the longest running local sitcom, Phua Chu Kang Pt Ltd. Their first major full scale K Pop was Super Junior Super Show 3. Besides SHInee World First concert, they are also organising the Faye Wong, Mandopop's diva & queen for her first comeback concert after 5 years (7 years since her last concert in Singapore).
The organisers have also hinted that there will be another K Pop concert at the end of the year. With RITS, I'm guess it will be a major name. ^^