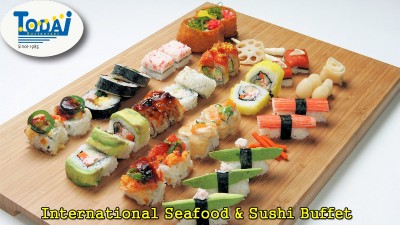 Dine at Todai to win tickets to Rain's concert this Sun, 22 May.
Customers who dine at Todai can stand a chance to win a pair of tickets to THE BEST 2011 RAIN Asia Tour in Singapore.
A pair of tickets ($288 per ticket) will be given away to one lucky diner for dinner on 19 May, Thurs, 20 May, Fri, and for lunch on 21 May, Sat.
Todai Singapore is known for its delicious food and its inviting and lively social atmosphere. The restaurant's buffet line is Singapore's longest, at 87 metres long, and with a seating capacity for more than 400 customers, is a big draw amongst buffet lovers in Singapore as it offers a variety of fresh seafood and international cuisine prepared behind an open kitchen concept.
For May, Todai Singapore, also known as "The Mother of all Seafood Buffets", have added premium New Zealand steaks to the daily buffet menu tand is also hosting a sushi eating competition where participants will be challenged to eat spicy sushi rolls. There is also a daily lunch special so diners can enjoy one complimentary child meal for every two paying adults, and and on-going weekly lucky draw for customers to win a free trip to Korea for two with airfare and hotel accommodation sponsored. One winner will be picked for each week.
Todai Singapore Operating Hours
Lunch: 11.30am to 4.30pm (last order at 4.00pm)
Dinner: 5.30pm to 11.00pm (last order at 10.30pm)
For advance reservations, customers can call Todai at Tel: 6688 7771.
Prices
Lunch:
Mondays to Fridays– S$42++ (adult), S$22++ (child)
Saturdays, Sundays, Public Holidays, Eve of Public Holidays – S$58++ (adult), S$26++ (child)
Dinner:
Mondays to Thursdays – S$54++ (adult), S$26++ (child)
Fridays to Sundays, Public Holidays, Eve of Public Holidays – S$58++ (adult), S$26++ (child)
Todai Singapore is located at Marina Bay Sands, B2-001.
About Todai Singapore
Todai is a global brand which has been growing for the last 20 years since 1985 where it opened its first concept restaurant in California serving sushi and seafood. Todai SSB, Inc is based in Los Angeles, California, USA, and continues to bring the Todai concept around the world, with over 40 Todai Restaurants now in China, Hawaii, Singapore, South Korea, and United States. One can experience the same quality taste in any branch around the world. Everything that the customer wants, high quality sushi and well-being foods, together with the service by Todai staff who treat customers as a member of the family, shall make the dining experience at Todai Singapore memorable. With motto "Well-being seafood", Todai continues to serve up great food to its customers where food lovers in Singapore can now enjoy the world famous taste of Todai at Marina Bay Sands.
For more information, please visit www.todaisingapore.com or visit their facebook page at www.facebook.com/TodaiSingapore