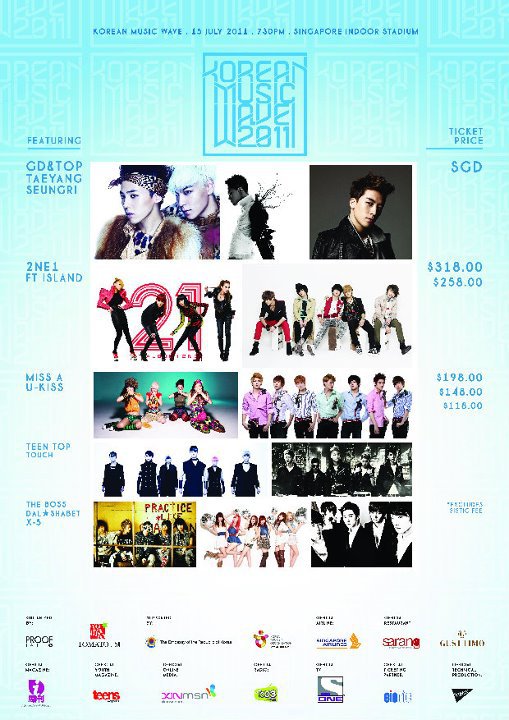 So the ticket sales starts today @ 12noon (online) and 1pm (on site). More than enough time for you to cast your vote for the 2011 Singapore Election first- that is if you are a Singaporean and old enough to vote. At least there won't be the same chaos as last year's. And if Sistic system crashed, Proof Label won't have to answer to all the complaints. I doubt the system will crash although I do think the most expensive tickets will sell out pretty quickly.
This is the first of the multi-group concerts this year. There should be at least another 2-3 concerts in the second half of the year. Like I said,
K Pop is now popping up everywhere
. So what does this concert have to offer the audience?
Well, for one…there will be 10, yes, TEN groups performing. Granted, not all the 10 groups are big names. In fact quite a few of them are what we call rookie bands. That is, they only recently debuted. Still, it does seems to be a smaller scale of the Dream Concert in Seoul (happenning on the 28th May this year).
So who are these 10 groups? Surprisingly, I have heard of them, even the rookie groups. Of course, they are still too new for me to form any opinion. But I Have Heard of Them. So they can't be that bad right?
And then you have Big Bang and 2NE1, 2 big names from YG Entertainment. Big Bang's name alone would be enough to sell the tickets and I know many wish it was just a solo Big Bang concert. Well, you never know. There may just be one here later on…… Again…lots of rumours flying left, right and centre. In the meantime, if you want to get your fix on Big Bang and don't want to travel to other countries, then you will have to buy the tickets to the Korean Music Wave 2011 concert.
They wowed the audience at last year's concert, I'm guessing they will be just as popular this time round, if not more. Their latest 4th album has already sold more than 100,000 copies. No mean feat in todays' downloadable world.

Love Song from Big Bang's 4th Album Special Edition
This will be their first visit to Singapore and I'm sure alot of their fans are eagerly anticipating it. In a world where almost all girl groups look and sound similar, 2NE1 stands out, not just the way they dressed but also their songs, which are anything but cute and sweet. They really are the female version of Big Bang. Park Bom, their lead vocalist, has just released her first single, 'Don't Cry'.

Go Away + Can't Nobody from To Anyone
FT Island is no stranger to Singapore fans as they have been to Singapore at least 4 times. FT Island is one of the few rare groups where I have bought each and every of their albums. They are really and truely a boy band as they perform as a band and not as an idol boy group doing slick dance moves. I do hope they release a new album soon.
Miss A broke into the scene in 2010 with the song, 'Bad Girl, Good Girl' and immediately gained popularity and prominence with the song debut. The 4 girl-group under JYP has been receiving lots of interet ever since. Both Jia and Fei are Chinese nationals whilst Min are known to have trained for as long as 6 years. Recently, the youngest member, Suzy was in the spotlight as she starred in the very popular drama,
'Dream High'
. Suzy is only *gasp* 17 years old! Miss A will be releasing a new album soon, in time for them to perform at the coming Korean Music Wave 2011 concert.
U-Kiss underwent a change in members this year with AJ and Hoon replacing Alexander and Ki Bum. Obviously, there were lots of hue and cry from Kiss-Me's. The change could have been handled better by the agency and I really feel sorry for the boys especially Ki Bum. However, I have to admit that I like their new album,
Bran New Kiss
and in particular the title track, '0330'. It would be nice to hear them perform live for this song.

0330 from Bran New Kiss
The Boss was here in Singapore last year for the Korean Pop Night concert. Although they only debuted in 2010, the boys were not new to the industry as they were part of the group Xing (I did wonder for awhile where did the group disappear to). So strictly speaking, they are not a rookie group, though under band The Boss, they are considered new. And these boys can sing.

Stumble Stumble from Awake
Watch the greeting from The Boss
here
.
Teen Top debut last year and is under Andy's (of Shinhwa) agency. Yeah…every singer is setting up their own agency. But I guess who better to cast and manage artistes better than an artiste right? Their song,
Supa Luv
was remixed and used to promote the movie, Beastly throughout Asia. Watch the original version below with Eric (of Shinwa) in the MV.
http://www.youtube.com/watch?v=fgOSdLi9ucs
Supa Luv from Transform
Those who went to K Klub's party organised by Coloured Rhythms recently would not be unfamiliar with them as they performed live at the party and created quite a storm and gained a number of new fans as well. They were also in town recently for the Men's Fashion Week 2011. It seems they were invited because of their sense and style of fashion. What do you think? Touch has been hitting the charts recently with their songs with their latest album and the release of their latest album, Too Hot 2 Handle will be greatly anticipated. Watch their greeting
here
.

Rocking the Club from Too Hot 2 Handle
I have to admit, I know very little about this new girl group, DAL★SHABET beyond the fact that they debuted this year. That's how new they are. However, one piece of information that I did find interesting was the fact they have a nickname- Cup Girls. Now in case you're thinking of anything naughty. It's nothing of that sort ok? It seems the girls have been beseiged with injuries ever since the start of their debut and have taken up the
TCM method of cupping
to cope with these injuries and pain. Of course, it would be the girls' first appearance in Singapore. Watch their greeting
here
.

Supa Dupa Diva from Supa Dupa Diva
X-5, the youngest of the rookie group, having debut only in March this year. That's like 2 months ago. So there isn't much infor about them. Will they stir up a storm? My guess is that they will definitely have some fans, as all Korean boy bands seemed to do. Will they survive in the competitive Korean entertainment industry? Only time will tell. Catch their greeting
here
.

Don't Put On An Act / The Show is Over from Xenos
Here's the seating plan and prices for the concert.
Tickets prices (excluding Sistic charge)
S$318.00 (mosh pit), S$318.00 (CAT 1 seated)
S$258.00 (CAT 2 seated)
S$198.00 (CAT 3 seated)
S$148.00 (CAT 4 seated)
S$118.00 (CAT 5 seated)
Is the ticket expensive? Well, to be able to watch 10 groups perform? No, it isn't. But of course, if you are going to the concert only for one group, then yes, it is expensive. The choice is yours of course.
Tickets go on sale at
Sistic
today.